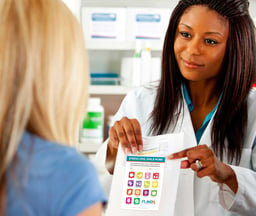 Back to School season is officially here and there is no better time to start thinking about how to grow your business during the upcoming cough and cold season. For independent pharmacies, growing your appeal to young families will be key to growing your business. Below you'll find five ways that implementing this service will help you attract new families to your pharmacy this fall:
Personalized service

While we (in the industry) may know that independent pharmacies deliver exceptional guest satisfaction and customer service levels, much of the general public chooses their primary pharmacy based on location. And let's face it, most antibiotics can be viewed as somewhat of a commodity given that the same drugs are dispensed in 60,000 locations. But, you can elevate the pharmacy experience by taking a few seconds to ask Mom, Dad, or Child, if they would like to personalize the taste of their liquid medicine. This shows that you as a pharmacist have genuine concern for your young patients and are committed to making medicine time less stressful for the entire family.
Empowering the patient

Kids don't like being sick, and they certainly don't enjoy taking medicine. Most children do not know their ABC's of medicine or care whether they were prescribed Amoxicillin, Biaxin, or Ceftin in order to feel better. However the first question any child asks when they are sick is "What flavor is the medicine?" With Flavorx, you can respond to the patient with the following statement to build trust and loyalty, "At our pharmacy, YOU get to CHOOSE how your medicine tastes."
Improving Adherence

Allowing kids to select their flavor is a psychological benefit because they play an active role in the process, but the Flavorx compliance charts and medicine taking tips are also great ways to help parents and their kids get through their medication regimen. Flavorx provides pharmacies with compliance charts, activity pages, and sugar free lollipops to hand out to patients as an incentive/reward for finishing their medication.
Marketing & Social Media Support

Flavorx makes promoting the service easy by providing you with marketing materials including posters, menu pads, flavor wheels, and more. We also create Dr. Detailing kits for you to drop off with your top prescribers. Finally, we understand that social media is a game changer when it comes to marketing your pharmacy. So we create seasonal content with sample posts and images that can easily be shared on Facebook, Twitter or Pinterest that relate to pediatric causes and help you promote your FLAVORx service.
Growing Revenues
Most chain pharmacies charge $2.99 for the service of personalizing the taste of a liquid prescription. This fee is a cash transaction on top of the patient copay, meaning you won't have to worry about low reimbursement rates from insurance companies. The average cost to an independent pharmacy to flavor a prescription is roughly 75 cents - this allows for some nice incremental revenue on that Amoxicillin (and why not educate the parents about the benefits of some probiotics or supplements while you're at it).
But more important than a few extra bucks per transaction, is the value of attracting new, young families to your store and building loyalty and trust from the beginning. With the power of social media and online reviews, they'll do the advertising for you if your service is great. If you want to build the next generation of customers at your pharmacy, the best time to work on your plan to attract those patients is now.
If you're looking for more benefits of FLAVORx, be sure to check out our eBook on engaging and delighting your customers and how FLAVORx can help you provide a personalized experience that customers are looking for these days.