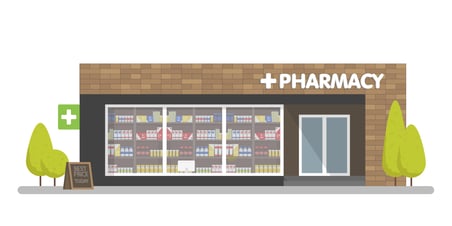 Location, location, location. When it comes to retail pharmacy, the old adage is true, your location can make or break your business. Unfortunately, you don't always have the best choice of real estate for your pharmacy, or your once ideal location becomes less so because a doctor's office moves away or a competitor moves in.
But location isn't the only factor that drives new customers through your doors. Having a solid marketing and advertising plan and looking for partnership opportunities in your community can help attract new customers and keep them coming back – even if your location is less than ideal.
Here are four ways to help you overcome a less than ideal retail location:
Collaborate with other businesses or organizations in your community
Depending on where your pharmacy is located, teaming up with other businesses near you to do a joint promotion can help drive traffic to you and possibly your neighbors. Doing some doctor detailing to local pediatricians' offices is a good way to let people know about your pharmacy and the services you offer, like custom flavoring children's medications.
Market yourself online
When it comes to digital marketing, there are several strategies you can use to get your name out there, including social media, online advertising and general search engine optimization. Having website and social media profiles should be a top priority. Asking for and gathering online reviews will help not only build your reputation, but also help in terms of online search engine optimization (SEO) for your business. Finally, you can cost-effectively advertise online through Facebook or Google to promote the services you offer, such as flavoring children's medication or delivering prescriptions. For more information on Facebook advertising, click here. For more information on Google paid-search advertising, click here.
Do some offline advertising
Utilizing off-line marketing strategies, like giveaways for patients and staff (pens, tote bags, etc…) or sponsoring a local sports team, are all fantastic marketing opportunities to promote your pharmacy in the community. Look for opportunities to advertise in your local paper, or even in church bulletins or school yearbooks. Finding ways to reach new customers in some old-fashioned ways can be inexpensive and effective.
Look for PR Opportunities
Is there a local newspaper, television station, radio stationin your town? Utilize your healthcare knowledge and offer to do a regular segment. Maybe it's how to manage allergy relief, or the best cold and flu remedies in the fall. The idea is you become a trusted healthcare advisor in the community while also promoting your pharmacy. Win win! Also, think about interesting, informative, or exciting events you can host at your pharmacy to get people accustomed to driving to your store. Free health screenings, ice cream socials, health-related educational workshops are all ideas to try.
Some pharmacies just can't help their location. Maybe you're in a small town and real estate was limited, maybe you're competing with many pharmacies in your community. But you don't have to be victim to a bad location. Don't think of your location as a barrier, but merely an opportunity to showcase the exceptional service that people will drive the extra mile to receive.