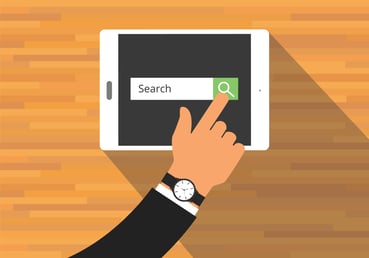 Many pharmacy owners don't think about online marketing as anything outside of Facebook, their website or online reviews. Not because they don't care, but because they simply don't understand the inner workings of how a business is actually found online. However, local marketing and SEO is an imperative marketing strategy to boost visibility for your pharmacy in search results to be found online.
What so many small business owners ask again, and again, and again is how to be found online, or how do you get to be number one on Google? My first response is always "it won't happen overnight..." but you can do it. If you use the right tools and the right strategies.
How do you currently show up online?
Let's do a little exercise in online search engine results. Take out your phone, and google "Pharmacies Near Me." Do you show up? Is your pharmacy listed? If yes, great! Where within the results are you located? Top ten? Top five? Not showing up at all? You've got some work to do.
Four Local SEO tips to improve your Google Results
Optimize your website
Want to be known for "Pharmacy in…[your city here]" make sure those words are mentioned on your website – especially in headers. Don't be spammy about your keyword useage, but be strategic and let your keywords fall naturally without over saturating. Also, making sure your keywords are noted in page titles and meta descriptions (the descriptions you see on search engine results pages) is crucial towards any website optimization strategy.
Update your business listings
Ensuring that you have listed, claimed and updated your business information on sites like Facebook, Yelp, Google, Bing, YP, and Yellow Pages is the first step to ensuring your business information is correct across the top business listing pages. Making sure that the most relevant information is displayed (hours, location, contact information and a storefront image) and you're your NAP (name, address and phone number) are consistent with other platforms (Facebook, Bing, etc…) is critical to managing your online presence. Learn how to set up your Google My Business page here.
Build Local Links
Google puts a lot of value on inbound links – meaning outside sites that link to your own. If you're trying to build local authority and increase your search engine results, having a link building strategy that builds on creating local partnerships and local press is a great way to build that authority and those inbound links to your website from other local businesses. Doing some co-promotion, advertorial articles in your community newspaper or local magazine and/or sponsorships of local events are not just great ways to build online authority but they do double duty in the way of getting your name out in the community in a grassroots way.
Optimize for Mobile
If your site is not mobile friendly you are doing yourself a major disservice. Google and other search engine sites place a huge value on mobile friendly websites given that over 50% of all internet traffic occurs on some sort of mobile or tablet device. The mobile friendliness – or mobile experience – does go into account when being ranked for search engine results. People who are searching on mobile are most likely to convert and become actual customers because there is often an urgency when searching for businesses and services on a mobile device. How often have you searched for something online and needed it right away? Whether it was a business or restaurant or a service, chances are you were already in decision making mode.
Online Reviews
Think online reviews aren't a part of your local SEO strategy? Think again. Reviews account for 10% of the local search ranking algorithm. Potential customers check out reviews before they even make a purchase from you and 68% of consumers say they are more trusting of a business with both positive and negative reviews. Don't be afraid to ask customers to leave a review – we love our "Favor for a Flavor" program that encourages parents to leave an online review and in exchange you give them a free flavoring.
Tools to help you manage your online presence
There are a number of online tools out there that can help you manage your online presence. Tools such as Yext or Moz Local can be an easy way to update many online listings at once - but you pay for that and when you stop paying all of your information is reverted. Google Business tools are great for managing your online profile, online advertising and keywords and they have plenty of tutorials for how to utilize their tools best.
Are listing tools like Yext or Moz Local worth it?
Yext and Moz Local are all in one subscription to update all of your local listings. Some of these services such as Yext can run you at least $500 per year and once you end your subscription, you lose your listings or they revert back to the former status. Most people however, don't search these hyper local listing pages and sites like Angie's List or Yelp are not necessarily included in a Yext subscription. Consider a service like this a rental of your online directory listings.
What's an Alternative?
The best and most cost effective alternative is to do it yourself. You can go to the Yext Free Local Business Listing scan, enter your pharmacy name, number and contact information, once you scan you can see every single local search directory Yext covers. You can go to each individually and sign up on your own – given that there are about 50+ directories, if you commit to updating two per day you can be done in about a month. It may seem timely but will be worth it in the end when you know that you have control over your listings versus worrying about your information being wrong should you stop paying for a service.
Getting found online is not an art. It's a matter of time, understanding and knowing who your local competition is, keeping your own online presence up to date and promoting yourself. If you're willing to invest the time and/or resources into understanding how to get found locally,