World Autism Awareness Day is an international event that aims to increase understanding and acceptance, as well as foster worldwide support for people living with Autism. FLAVORx is proud to support the goals of this important day.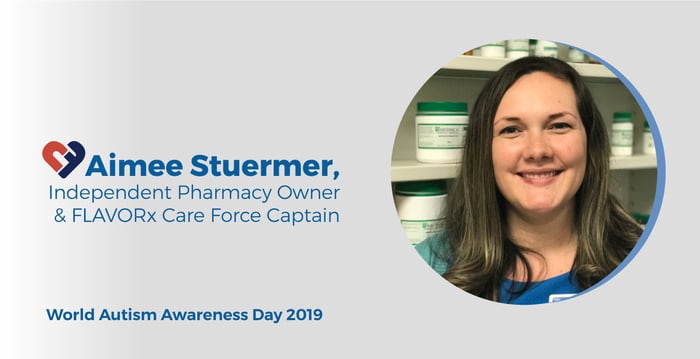 When we found out that independent pharmacy owner, pharmacist, and FLAVORx Care Force Captain Aimee Stuermer was able to use flavoring to make medicine time easier for a patient with autism and her mom, we wanted to share her story.
For Stuermer, being able to make a difference in people's lives is her favorite part of her job. She explained, "I think it's really important for us to treat patients as individuals because everybody's different. There are different things that they're going through and different things that might help them."
She told us,
"We had a mom come in to the pharmacy who has a child with autism. She told me that her daughter would become extremely upset if she had to take medication that wasn't flavored strawberry. When she found out that we could flavor medications, she was elated. Anytime her daughter needs any medications, mom comes here, and they haven't had any medication-related issues since."
Stuermer is a great example of how pharmacy staff can help support the needs of patients with autism. As a FLAVORx Care Force Captain, she works hard to make sure that all patients get the support, understanding, and care that they need.