James Drug Store of Denham Springs, LA has the kind of rich history that only a business that's served its community for almost 90 years can have. From the Great Depression, World War II, the eradication of Polio, 4 LSU Tiger Football National Championships, and now the fight against COVID-19, the pharmacy has been there to support their town through the ups, the downs, and everything in between. By staying on the forefront of pharmacy technology and providing excellent patient care, the team at James Drug Store has blended the old with the new to create something great. We spoke with pharmacist in charge Patrick Brian to learn how James Drug Store puts their motto, "where old-fashioned personal service meets modern day medicine" into action.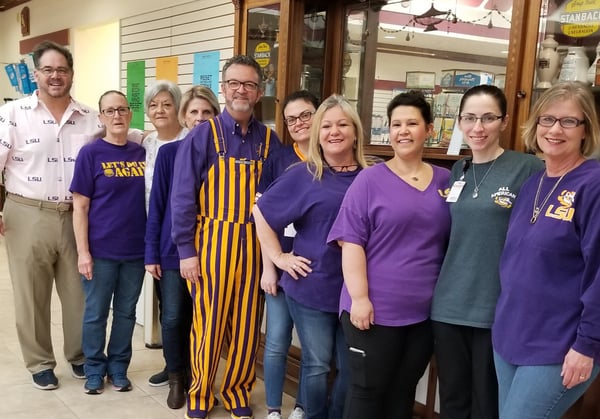 Geaux Tigers! The James Drug team decked out in their purple and gold for an LSU win
A Denham Springs Institution
Founded in 1932, James Drug Store has always been at the center of the Denham Springs community and continues to serve as a leader in the independent retail pharmacy field in South Louisiana. The city grew post-Hurricane Katrina era and so did the staff and pharmacy. Brian told us James Drug Store's staff of five pharmacists and 21 support staff aims to continue the pharmacy's founding vision: to combine personal customer service with modern day medicine. "Serving multiple generations, we realize that a customer can buy the same item at any big box store. It is that personal customer service that makes all the difference." He added, "This dedication to the customer was never more important than in 2020. Independent pharmacies were the front line during the pandemic and led the way for vaccinations in our area."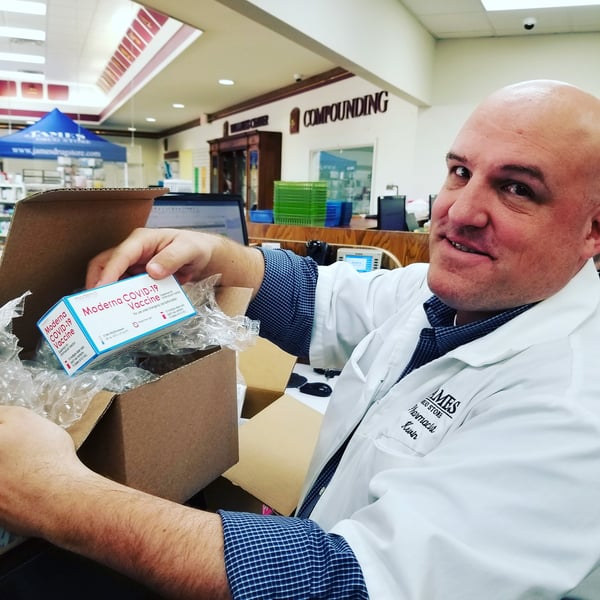 Pharmacist Kevin Gamble prepares COVID-19 vaccines
As the community has grown and changed over the years, James Drug has grown with it. As times changed, the pharmacy has adapted to provide the support members of the town need. Brian explained, "James Drug Store has always been part of this community and continues today. In the early days, the country was coming out of the Great Depression. Local merchants would donate products and the town's people would gather in front of the drug store on Saturday afternoons and hand out prizes. Later we would serve as the Greyhound Bus terminal for troops headed off to war." Fast forward to today and James Drug participates in scholarships, blood drives, community garage sales, school adoptions, local high school sporting events.
Pairing Pharmacy Automation With Personalized Care
With the ever-growing number of pharmacy options available to patients, the James Drug Store team aims to set themselves apart by putting their patients' health needs first. "One of the things that makes us different is that we are still a real drug store. Pharmacies today are so busy selling milk and bread and other lines of merchandise that do not pertain to professional pharmacies. We carry a full line of durable medical equipment, ostomy supplies, Ideal Protein: items that pertain to your health."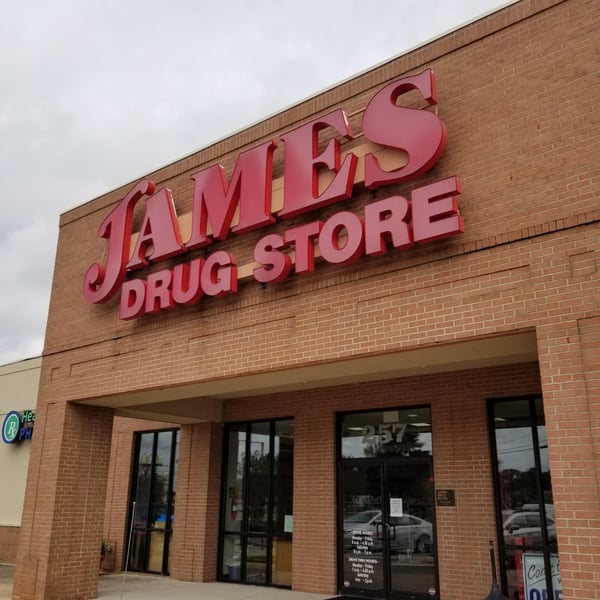 James Drug Store has been a community staple since 1932
Brian emphasized that the staff at James Drug is what makes them most special. While many pharmacies are undergoing major staffing shortages, James Drug Store operates properly staffed with four pharmacists on duty at all times. Brian explained, "We are very respectful of our customers' time. You drop your prescription off, and we have it filled within 10-15 minutes. The majority of our staff has been here for 20-plus years. We know the customer, their momma, and their family. We go to church with them, we shop locally - we care."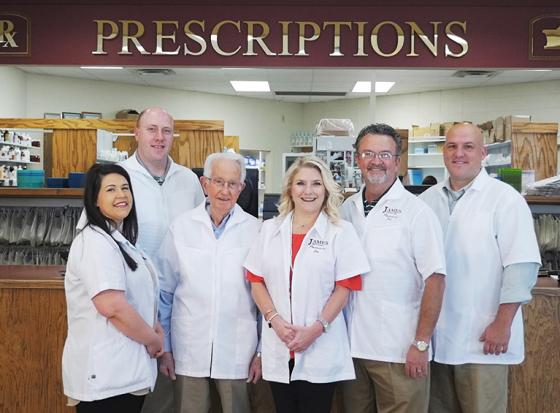 The James Drug Store team of pharmacists with late owner, Herman Crotwell
To further enhance the quality of care they offer to patients, the James Drug Store team also utilizes the latest pharmacy automation technology to enhance both their speed and accuracy. Brian told us, "As one of the first pharmacies in the state to purchase a computer, we lead in technology. Our first computer was a VC Brown the size of a small room with computer discs the size of a car hood. Today with robots and RX Safe we can tell you anything about the medication that you take, where it was made, the lot number. We have a picture of the medication that is going into your bottle. It is never touched by the human hand. From bar code technology to flashing bags to locate the patients' medication, the margin for error has been greatly reduced."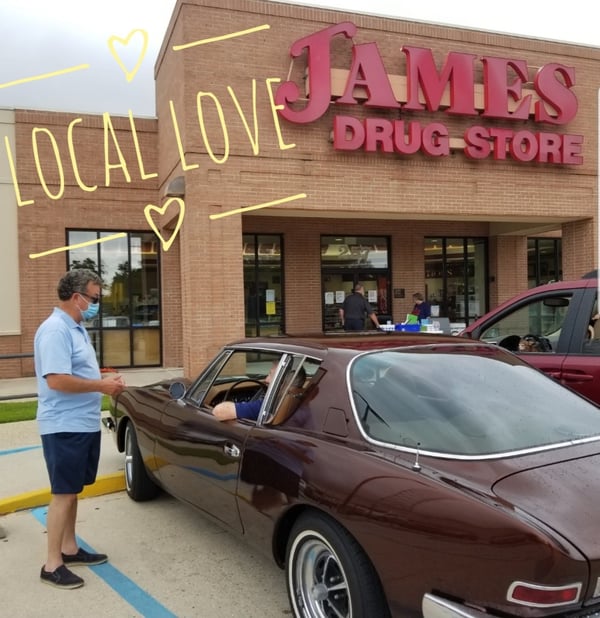 PIC Patrick Brian brings customer care curbside
Providing a Better Medicine-Time for All Ages
As a FLAVORx pharmacy partner, James Drug Store has helped their patients have an easier time taking medicine since 2016. Brian said, "FLAVORx – the kids love it. As a child I can remember having to take my medicine. We all have children and it is a battle to get a child to take some wonky tasting medicine. FLAVORx solves that battle." Brian has found that their little patients aren't the only ones who like to choose the way their medicine taste: "The funny thing is – it is not just for the younger customers. We have adults that like their meds flavored too. James Drug Store is here to serve the customer, and the flavor of the medicine only enhances their experience."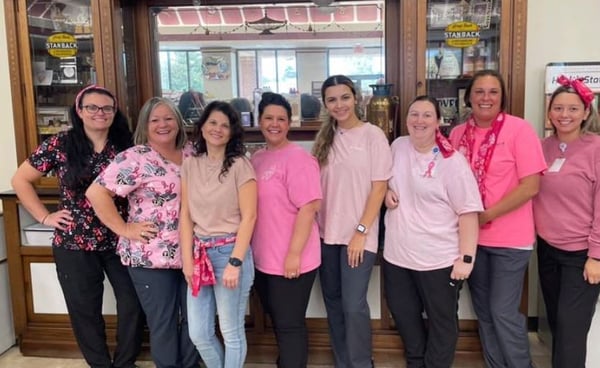 The James Drug Store team goes pink for breast cancer awareness
FLAVORx would like to thank the staff of James Drug Store for their commitment to patient care and their many years of serving their community! If your pharmacy also goes above and beyond for your patients, send an email to ctaylor@flavorx.com for the chance to be our next Pharmacy of the Month.