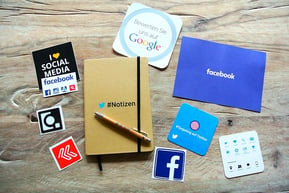 Social media is all the rage these days. Not just for individuals, but it's become a necessary component to any marketing strategy for small businesses as well. One of the best networks for small businesses to market on is Facebook, thanks to its reach and the amount of daily visitors. While many small business owners stress that they don't have time, Facebook is an easy entry to social media marketing and doesn't take much time or effort to get started.
Why Facebook?
Facebook is one of the most widely used social networks on the internet. If you have a page but aren't quite sure how to best utilize it, try downloading one of our seasonal marketing kits with pre-sized social media graphics to promote flavoring, or reaching out to other businesses to build cross-promotional opportunities. It's a great network to collect reviews on as well - a component of any online marketing plan that should not be neglected as it gives your business a credibility boost across the internet as well as a certain amount of search engine juice, so they assist with your search engine rankings as well.
Facebook ads
Want to reach a wider audience? Facebook ads let you hyper target for not a lot of money. You can set your budget, and target based on age, interests, location, marital status. Ads are a great opportunity if you're running a promotion or special, trying to garner more online reviews (try the Favor for Flavor promotion that we recommend to gather online reviews) or even surveying current customers. Facebook Ads are an easy way to promote it to not only those customers who are already fans of your page but also maybe their friends and families as well as prospective customers who may like a competitor or similar business in your area.
Facebook Contests
There are all sorts of contests that could be run on Facebook to engage your local community - from an athlete of the week showcase, to getting testimonials from kids and parents who have successfully flavored their prescriptions - turning these opportunities into contests on Facebook will not only engage your pharmacy customers but also other members of the community as well. As with any marketing tactic, understanding what your end goals are will help determine the best format for your contest and how to best promote it. For some tips on running a successful Facebook contest, review this post from Social Media Examiner.
Video Marketing
Video is all the rage these days. Capture a quick two minute video of your staff giving preventative health tips or promoting a relevant, seasonal product (probiotics for cold and flu season for example) is a personalized way to to connect with your customers via video. With video streaming resources available from any smart phone (Facebook Live, Instagram video, Snapchat) creating videos doesn't need to be a a timely or expensive project - rather the instantaneousness is the appeal to the audience and the less polished the more personal you'll come off.
You don't need to be a marketing genius to reach out to your customers and your community online. Social media networks have made marketing easy and accessible for everyone. Trying out any of these fun ways to connect with your customers will personify your team and add depth to the customer service experience and help grow your business, especially among the millennial audience in your community.