Pharmacies have always held a vital place in their communities, but during the COVID-19 pandemic these essential businesses have shown what a unique role they fill for so many people. Throughout rapidly changing circumstances, they have not only adapted, but have stepped up to provide extra support for those who need it.

During these tough times, pharmacies have shown how truly committed they are to customer care. They've not only taken extra steps to ensure patients can safely have access to necessary medications and healthcare, but they've expanded their duties to include providing hard-to-find supplies to customers and first responders as well as administering COVID-19 tests.


Adapting to the New Normal

A trip to the pharmacy sure doesn't look the way it did a few months ago. Throughout the spread of the pandemic, the CDC has implemented a series of guidelines specifically for pharmacies to help reduce the spread of the virus while these businesses remain open. Pharmacies have been urged to limit traffic in the building, so they have adapted by encouraging customers to use curbside, drive-thru, and delivery service. To help people stay home and safe, some pharmacies that charged a fee for delivery service or did not offer the service at all before the pandemic, have begun delivering to customers for free.
Pharmacies that have kept their store area open have taken steps to ensure social distancing guidelines are followed. The CDC asks pharmacies to place a plastic barrier on the counter to limit contact between pharmacy staff and customers. Employees and customers are also asked to wear masks and practice social distancing by maintaining a six foot distance from others.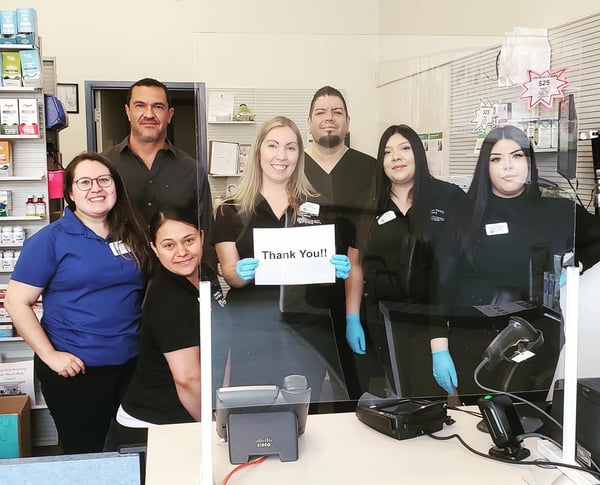 The staff of Alameda Thrifty Pharmacy stands behind their new plastic barrier, donated by a local citizen.

Sharing Important News

During the spread of COVID-19, communication has been crucial as new guidelines are rapidly enacted. To help keep patients up-to-date on what's happening, pharmacies have been utilizing their social media platforms to share important info. Not only is this helpful if a patient needs to know how to stay safe at the pharmacy, social media has also allowed pharmacies to update customers on availability of scarce but critical items. When many people have had the frustrating experience of going to a store to look for hard-to-find items like hand sanitizer, masks, and disinfectant, pharmacies have made it easier on customers by letting them know when they have new shipments of these items and when they sell out.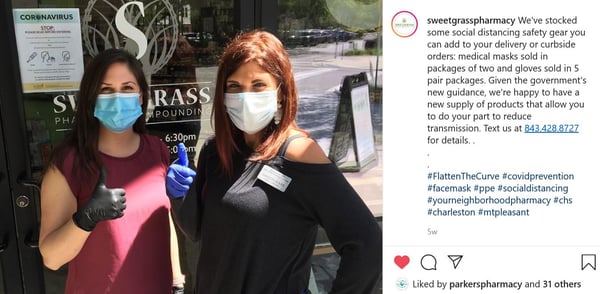 The staff of Sweetgrass Pharmacy uses Instagram to let customers know they have masks and gloves available.

The Accessible Healthcare Provider

Even when we aren't in the midst of a crisis, patients can find a unique, accessible healthcare option in their local pharmacy. Pharmacy staff have a wealth of knowledge and education that patients can access simply by walking in (or in the era of social distancing, calling or visiting the drive-thru). Pharmacists and pharmacy technicians are there to help answer questions about side effects, potential interactions, and anything else you might be wondering about your health. All without an appointment!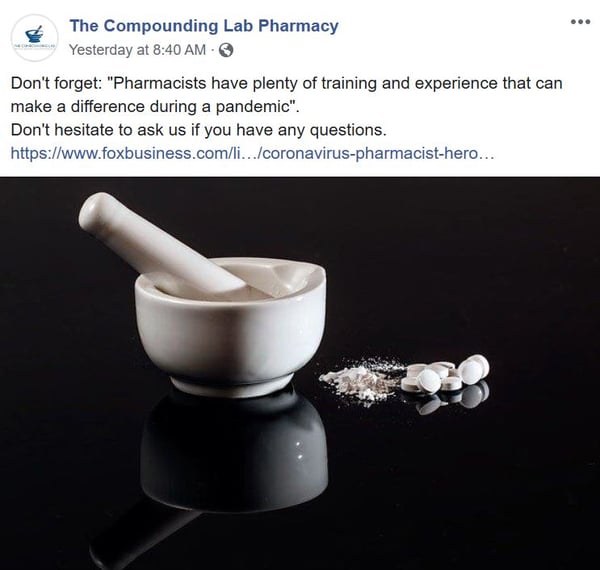 The Compounding Lab Pharmacy reminds customers that they are there to answer questions.

Providing Extra Support

As if pharmacies weren't busy enough working under the new pressures of the pandemic, many pharmacies have used this time to provide extra support for those in their community who need it. When first responders, healthcare workers, and pharmacy customers have had trouble finding the supplies they need to protect themselves, pharmacies have stepped in to help. Because hand sanitizer has been in short supply since the outbreak of COVID-19, the CDC has allowed pharmacies to compound hand sanitizer. Many pharmacies have chosen to sell their compounded hand sanitizer to pharmacy customers and donate it to front line workers like police officers, firefighters, and healthcare workers.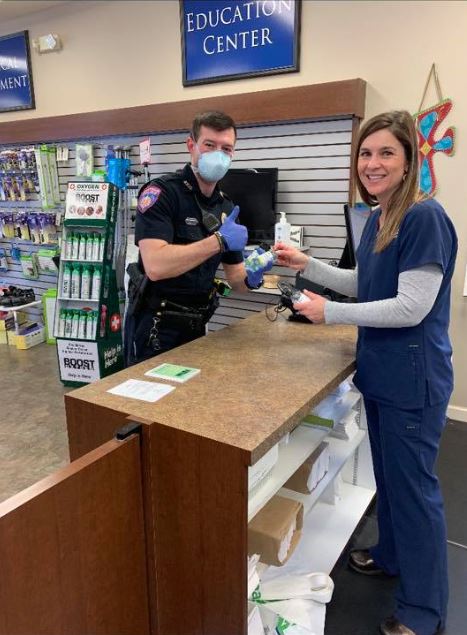 An employee of Saltillo Pharmacy hands donated hand sanitizer to a local police officer.


COVID-19 Testing
One of the unique values of pharmacies is the variety of services they offer. Need a flu shot? Head to your local pharmacy. Taking lots of medications and need help managing them? Your pharmacist can help. During the coronavirus pandemic, they are now able to offer one of the most important and sought-after services: COVID-19 testing. Around the country, tents are popping up in the parking lots of independent and chain pharmacies alike where pharmacists donning full PPE are testing those showing symptoms of COVID-19.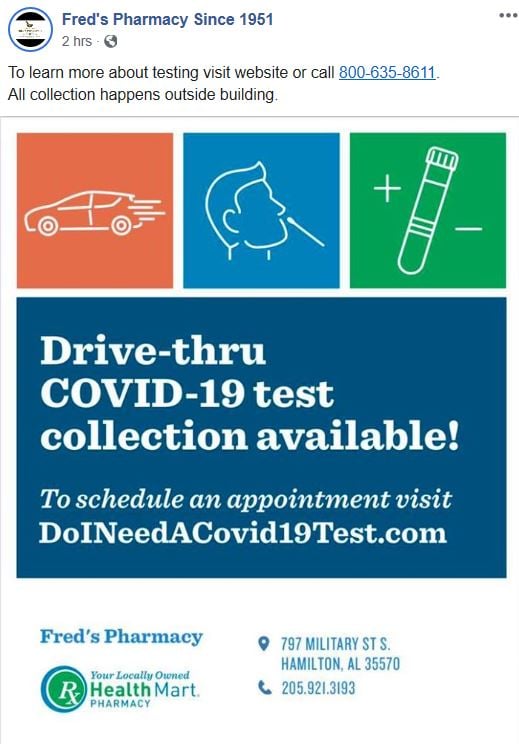 Fred's Pharmacy uses their Facebook page to let customers know how they can get a COVID-19 test at their pharmacy.
Pharmacists and pharmacy technicians already do so much for their patients, but during the past few months, they have been there for their communities in new and important ways. They've found innovative ways to communicate with and help their patients, while doing everything they can to protect the communities they serve. Be sure to include your local pharmacy team in your thoughts as you consider all of the heroes stepping up to help during this crisis.