Competition in the pharmacy industry is intense, possibly more intense than ever before. If a customer doesn't like the service they received at your pharmacy, there's nothing to stop them from filling their prescription at the pharmacy down the street. Of course, that's after bashing the pharmacy with a one-star online review that's out there for all of the internet (read: potential customers) to see.
It's more important than ever to not simply settle for filling customers' prescriptions and sending them on their way. You have to wow them, give them the kind of service that sends them online to rave about their wonderful experience and keeps them coming back to your pharmacy again and again. This is the kind of service that builds a solid customer base that continues to grow in a highly competitive economy.
Winning Families with the Fillmaster Auto
One of the important steps toward building that solid customer base is attracting families with children to the pharmacy, and then earning their loyalty with an excellent experience. A regional group of pharmacies discovered a tool that helped them attract families and then win them with great service. Enter the Fillmaster Auto.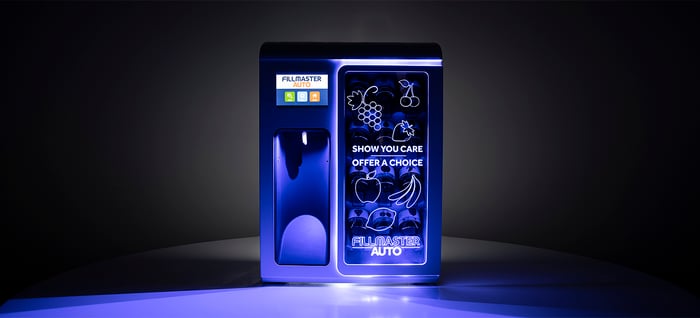 This pharmacies decided to put the Auto to the test with a pilot program. The stores chosen to pilot the machine loved it, and they decided to install one in every single pharmacy. Even this successful pilot program could probably never have predicted what the future would bring; that group of pharmacies has now seen a 40% increase in liquid medications dispensed over the two years since they've implemented the Auto. As liquid medications are primarily given to children, this large increase in liquids translates to a large increase in families filling their prescriptions in this chain's pharmacies.
The Auto: Helping Kids, Helping Parents, Helping Pharmacies
But back up, what's so special about the Fillmaster Auto? The Auto packs a major customer experience impact in two areas: engagement and speed. On one hand, the Auto helps pharmacies engage with their customers by offering a choice in how they want their medicine to taste. On the other hand, the time needed for reconstituting and flavoring liquids is slashed to mere seconds. The user simply needs to scan the medication, choose the flavor and BAM! You have a reconstituted medicine flavored to the patient's preference.
The Auto allows pharmacies to offer customers a personalized experience, kids are empowered to choose the way they want their medicine to taste, and medicine-time gets easier for the whole family. Add in the efficiency and speed the Auto brings to pharmacy workflow, and you've just given your customer a rave-worthy experience. We call that a win-win-win...win? Well, you get the idea.
The Auto Difference
That's one FLAVORx pharmacy partner's story. What about all of the other pharmacies using the Fillmaster Auto?
On average, independent and chain pharmacy partners using the Fillmaster Auto dispense 15% more liquids year-over-year. Compare that with the nationwide 2% average increase in liquids dispensed by pharmacies not using the FLAVORx program or the Fillmaster Auto. Would you enjoy an 8x improvement in scripts dispensed over other pharmacies in your community? Heck yeah you would!
These numbers clearly show that families with children are loyal to the pharmacies that are passionate about providing their customers with a top-notch pharmacy experience. They champion the pharmacies that are dedicated to offering personalized services that benefit their children's health while also making sure their visit is quick and easy. That is what we call the Auto Difference.
---