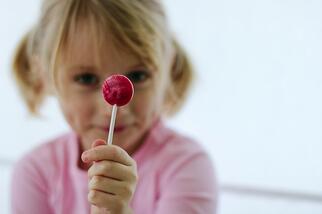 Think back to when you were a kid, being dragged around town running errands with your mom or dad. Errands were the worst, especially when they wasted your precious weekend, all you wanted to do was play with friends, but instead you had to go with them to the grocery store, the bank, or get a haircut. But come to think of it, those last two chores weren't so bad because I knew if my behavior was half decent, I would be rewarded with a
lollipop
!
---
Fast forward to the present day and now I am the dad dragging my 6 and 3 year old boys on all the same chores, and you know what? The lollipop is still the best 5 cent reward out there. I've noticed lots of local businesses in my community still using a treat at the cash register to reward children for good behavior, all while creating a customer experience for both the child and parent. In the past week alone, I've noticed my kids receiving this delightful candy on a stick from the local pharmacy, the barber shop, and the drive thru bank, which also has treats on hand for the dogs in the car (a good idea if you have a drive thru).
Finally a light bulb went off in my head, could we unite these forces to test a new way to market your pharmacy or local business outside your store's four walls? One word, YES! If we could turn an everyday chore into a less stressful, or dare I say, a positive experience, it is exactly what busy millennial moms and dads crave today.
Let's discuss how we can team up with other locally owned businesses to increase your reach to attract millennial families in your community. For starters, every independent pharmacy customer of FLAVORx has purchased FLAVORx sugar-free lollipops; in fact they have been a huge hit for as long as the company has been around. We had to begin selling them through Amazon after getting so many requests and great testimonials from our customers. But why limit the distribution of these tasty suckers to the pick-up counter?
I asked one of our top independent pharmacy customers at Atlantic Apothecary in Smyrna, DE to put this theory to the test. We shipped them a couple hundred FLAVORx sugar free lollipops and owner Kevin Musto and staff attached a sticker to each lollipop that said, "Courtesy of Atlantic Apothecary, let us flavor your next Rx." These were distributed to local businesses willing to cross promote, and sure enough within a few weeks they noticed some new faces and families with young children walking thru their doors.
"Knowing that everyone enjoys getting lollipops, and that some patients don't care for the taste of their medication, we actively spread the word that our pharmacy can greatly improve the taste of their medication. Not only are we the medications experts, we also have become the my bad tasting medication, now tastes great experts!"
-Kevin Musto, Pharmacy Owner
This is the best 5 cents you could spend to earn the business of a new family. I guess I could say "You'd be a sucker not to try it!"
To learn about Millennial Moms and why they are important to your pharmacy download our E-book!
---