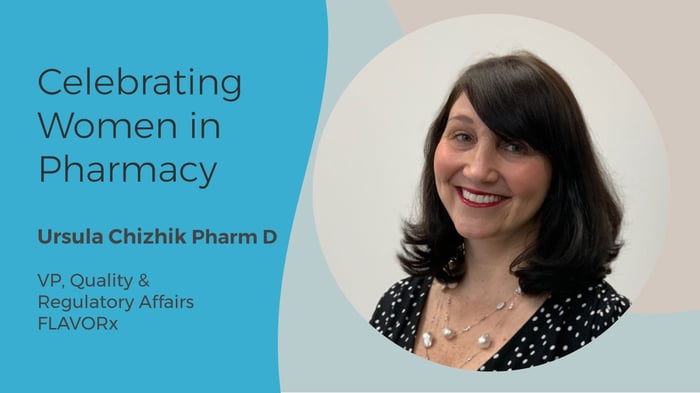 To celebrate Women's History Month, we will be profiling influential women in pharmacy and taking a look at their career paths, accomplishments, and personal philosophies. To kick off the celebration, we spoke with FLAVORx's Vice President of Quality and Regulatory Affairs, Ursula Chizhik and how leading with empathy helped her make a difference throughout her career.
Before joining the FLAVORx team, Chizhik worked as a pharmacist, a career that allowed her to help patients based on their unique set of values, beliefs, and obstacles.
She explained, "As a pharmacist, you have to try to empathetically problem solve with the patient. The pharmacy can be a scary place."
Chizhik noted that pharmacy professionals have to find a way to solve human problems ranging from helping someone who needs their medication but cannot afford it, or explaining to someone an illness they do not understand.
"Being a pharmacist is about trying to figure out what the patient or caregiver needs and helping them solve that problem," said Chizhik.
When asked what qualities women bring to the industry of pharmacy she said,
"Women bring to the table a nurturing, caring perspective and a healthy, humanistic approach to things."
Chizhik believes that women generally look at the bigger picture and are considerate of the whole team. "How can we all get to the goal that we want in the most kind, fair way as possible?"
After 11 years of working in pharmacy, Chizhik decided it was a time for a change.
"I had worked with FLAVORx during my time as a pharmacist and thought it would be great to work there. I showed up at their door one day and said, 'I don't know what I'm going to do here, but I'd like to work here.'"
During her eight years at the company, she has become an invaluable member of the team. Chizhik did not become the company's only female vice president by ruthlessly fighting her way to the top; she attributes her success to her diligent work ethic and care for others.
She said, "I almost don't do anything without thinking of everybody. Sometimes to be successful in politics or business, you really can't care about people and that's how you get ahead. That wouldn't feel right to me," said Chizhik.
"I would rather be authentic to myself, authentic to my family, be more well-respected by my colleagues rather than feared. Some people walk into a room and don't care how you regard them. That's not how I choose to do my job."
Since the day she came to FLAVORx in search of a job, Chizhik has been a kind, hard-working presence at the company. She is an excellent role model for her colleagues, aspiring pharmacists, and any woman who wishes to lead with empathy.
---
Have a Woman in Pharmacy you'd like to recognize? Comment below and tell us all about them!