Ladue Pharmacy serves as a one-stop shop where the people of St Louis, MO can go to for all of their pharmacy needs, uncommon gifts, and an all-around great experience. The pharmacy has been in business for 22 years under the current ownership and is made up of 30 employees ranging from pharmacists to store merchandisers.
In addition to important pharmacy services like compounding, med sync, local delivery, medication packaging, immunizations, and one-on-one consultations, they also have extensive gift, toy, and cosmetic departments that are always fully stocked with up-to-date goodies.
Pharmacy owner Rick Williams and his team took some time to share the personal touches that make their pharmacy so special. "We think of entering our store as an experience, as soon as you walk in someone will greet you and lead you where you need to go." He added, "We also make our pharmacists available to each of our patients. Any questions or concerns they have, a pharmacist is there to talk to them."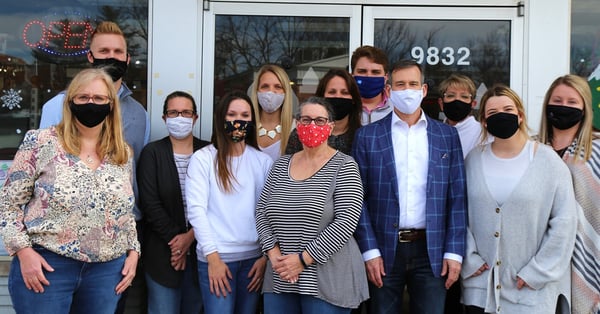 The Ladue Pharmacy staff in front of the pharmacy
Focus on Wellness
For many customers, a pharmacy is first and foremost where they go for prescriptions, but the staff at Ladue Pharmacy strives to provide their patients with so much more. Angie, the pharmacy's Head Pharmacist, explained, "What makes our practice different is that our focus is not just on giving you your prescriptions, it is about keeping you well. Our patients also have direct access to our pharmacists for questions and consultations."
Williams also shared some of the ways the team works to promote wellness beyond the pharmacy itself: "We host multiple flu clinics each year for our community and work with other local businesses in our area on all kinds of events. We recently hosted a COVID-19 sweepstakes to encourage more people in St. Louis to get the vaccine by offering prizes such as a $1,000 shopping spree."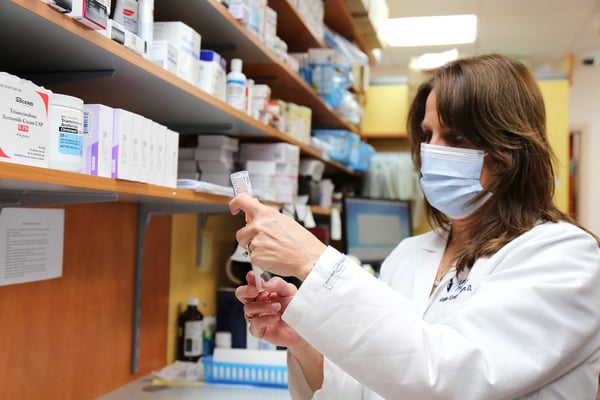 Head Pharmacist Angie prepares a vaccine
A Kid-Friendly Destination
Beyond providing adults with all they need to get and stay healthy, the staff has also worked hard to make their pharmacy a special place for kids to visit. Before the pandemic paused the pharmacy's in-person gatherings, Ladue hosted events filled with fun for their littlest patients. They once hosted a drive benefitting Toys for Tots complete with face painting, a bubble truck, and goodie bags. When the city's local businesses came together to throw a Christmas celebration, the pharmacy offered special holiday activities and a station where kids could write letters to Santa.
Even when the pharmacy wasn't able to host in-person events during the pandemic, the Ladue team still came up with creative ways to make kids smile. When kids had to miss out on the summer camp experience due to the pandemic, the pharmacy offered Camp at Home boxes filled with games and activities. At the end of the last school year the pharmacy helped kids celebrate their hard work in school, offering a free gift for any child who brought in their report card with good grades.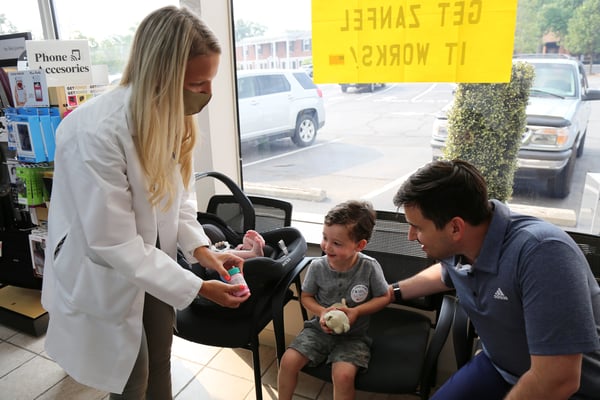 Pharmacist Emilee talks to a young patient about his medicine
FLAVORx - For Kids and Pets!
As a FLAVORx pharmacy partner since 2010, Ladue Pharmacy allows kids to choose how they want their medicine to taste. "Our pharmacists use FLAVORx to add kids' favorite flavors to any liquid medication, making the experience of being sick just a little better," explained Angie, Head Pharmacist. "Adding flavors to medication also makes it easier on the parents when they give their younger kids medication."
Offering FLAVORx also helps the staff provide a memorable experience for kids and parents at the pharmacy. Emilee, PharmD told us, "We once took a younger patient back to see how we 'magically' changed the white powder to a bubblegum liquid. We even let her shake the bottle!"
Kids aren't the only ones who have an easier time taking medicine at Ladue Pharmacy; the pharmacy also offers flavoring for pet medications. Angie explained, "Having pet compounding and flavoring is a nice addition at our pharmacy because our patients think of their pets as part of the family, and it makes it easy for them to grab the prescription at the same time as their own prescriptions." She added, "Patients also appreciate how nice it is for their pets to enjoy the medicine they are taking."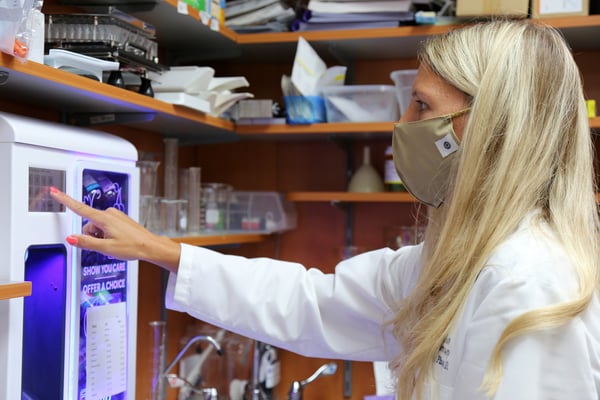 Pharmacist Emilee uses the pharmacy's FLAVORx Auto to reconstitute and flavor medication
All of us here at FLAVORx would like to thank the staff at Ladue Pharmacy for working so hard to provide their patients with excellent care! If you are interested in being featured as our next FLAVORx Pharmacy of the Month, please send an email to ctaylor@flavorx.com