Pharmacies can be hectic places – ask any pharmacy tech who starts their day with a long queue of prescriptions to fill while the phone is ringing off the hook. Or ask the customer standing at the back of the 'pick up' counter line that doesn't seem to be moving.
Good innovation solves problems and improves the quality of life. On Innovation Day, we're spotlighting the Fillmaster Auto, a machine created by FLAVORx and sister company Fillmaster Systems, that is changing the landscape of pharmacies nationwide.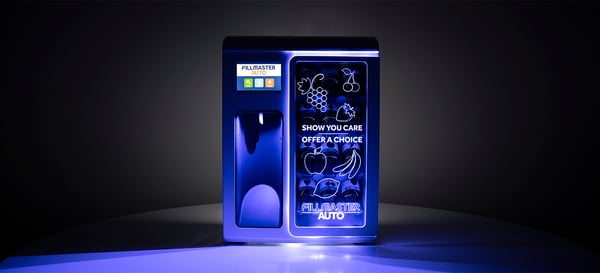 Pictured: The Fillmaster AUTO
The creators of the Auto imagined a solution that would help make pharmacy staff's workday easier and the customer's experience more fun.
Reconstituting medications used to be a time-consuming process that involved careful measurements and costly bottles of distilled water. The Fillmaster Auto allows pharmacy staff to scan a medication's barcode and the machine automatically adds the correct volume of filtered water in a matter of seconds.
"I knew the Fillmaster Auto was going to be a hit, because so many pharmacists and technicians asked us for it. The reaction when I visit pharmacies that have one has exceeded even my high expectations", said Chad Baker, Senior Vice President of Marketing for FLAVORx and Fillmaster.
The Auto also allows the pharmacy customer to personalize their medicine-time experience.
With each medication filled, the Auto gives the option to automatically add a flavor depending on the customer's preference. Gone are the days of suffering through bad-tasting medications; whether it's a sick child's Tamiflu or an adult's daily seizure medication, the Auto lets customers choose the way they want their medication to taste.
"I have literally gotten hugs and high fives from pharmacy staff in those stores[with the Auto]. They use the machine and they love it," said Baker. "It's tremendously gratifying to innovate in a way that fits a real need and truly helps people."
Check out the Fillmaster Auto in 29 seconds:
Have any questions? Let's get in touch!