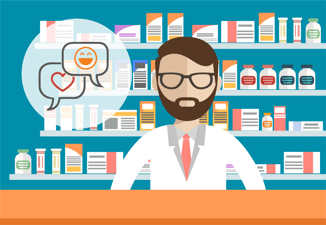 Patient empowerment.
That seems to be the buzzword in health and wellness these days. We've been using it as it relates to medicine flavoring for the past few years.
Last fall, I saw John McNeil (President of Global Sales and Services for Tesla) speak at a marketing conference. He spoke about selling without selling, a fascinating concept that can be adopted by many pharmacists who don't want to be perceived as sales people, but would rather be thought of as problem solvers.
We here at FLAVORx never want a pharmacist to feel as if they are up selling a custom flavor for a child's medicine. Rather, we want pharmacy staff members to educate or empower the patient with options available to deliver the best outcomes, and then let the parent/patient understand the value of personalizing their child's Rx with their favorite taste. Your patients are looking to you for advice and expertise whether they ask you or not. If you are just dispensing medicine without speaking with each patient, you may as well just send them to a mail order pharmacy or suggest they get their next prescription from the pharmacy down the street.
Here's how pharmacists can sell without selling to their patients.
Identify a Problem
With each of the Tesla business segments, it starts with clearly defining a problem and tying the company's mission and meaning as part of the solution to that problem by educating your prospective audience. Once the right story is being told using some engaging but educational videos, Tesla relies on digital buzz on social media and word of mouth marketing from their loyal brand enthusiasts, allowing more consumers to decide that they need that solution to solve their fundamental problem.
When a parent complains about medicine time at home being stressful, or asks a question: "How do I get my child to take medicine easier?" You, as a pharmacist have an opportunity to be a problem solver. Medicine time, as you know, is often difficult with young children. Proactively offering advice to parents with tips for delivering a less stressful medicine taking experience will go a long way!
Educate through storytelling
Rather than competing for attention by running commercials during football games and wasting paper buying print ads in magazines and newspapers, Tesla has become top of mind and tip of tongue in a completely different way. Every time Elon Musk does a Ted Talk, or sends a Tweet, it starts an interesting new topic of conversation from autonomous electric cars, to solar roof shingles, to digging high speed loops and tunnels and even colonizing Mars!
In the Independent Pharmacy space, there may be no better educator than Chris Cornelison at Iuka Discount Drug. His mission is improving health & wellness for those in his community and If you want to learn from one of the best, he even teaches a course through PDS that is highly recommended by top independent pharmacy owners.
Chris says: "The main underlying concept in my class is to get the pharmacist to share their knowledge with patients and let 'the patient' decide what to buy. Too many pharmacists don't share the best solution to the problem with the patient, so the patient never knows all the options."
Create Digital Buzz
In 2015, while Ford spent $2,550 in ad-revenue for every car sold, Tesla spent $6. Not Six-Thousand but 6 Dollars (600 pennies). I know Tesla car sales were nowhere near Ford's in 2015, but you'll be hard pressed to find a commercial (in the traditional print or video sense) promoting a Tesla car, Solar Shingle roof tile, or trip to Mars and if you look at who is telling the right story right now, look no further than the stock prices of those respective companies.
Small businesses and pharmacies NEED to be digitally accessible. Have a website where patients can find out who you are, talk about yourself and the solutions you offer and share your expertise on social media and collect and showcase online reviews to share stories of loyal customers. Creating digital buzz isn't difficult, nor is it expensive, but you do need to have an online presence to even play in the digital game.
Patient Empowerment is already shaping up to be the next big buzzword in health & wellness and we've been using that as it relates to Rx Flavoring for the past few years.
It is crucial right now to build deeper relationships with your patients by sharing your expertise and educating the patient how they can optimize their health & wellness. The pharmacies that get it are the ones that are offering a less stressful medicine taking experience by empowering the kids to choose the taste of their medicine.
When you share your expertise, and show genuine concern for improving your patient's health & wellness, you are building trust & credibility with that patient which inevitably leads to greater loyalty and a greater relationship with that customer. Not only will you be on your way to selling without selling, you'll also achieve greater customer retention in this age of disruption.