This article originally appeared in the June 2017 issue of America's Pharmacist, published by the National Community Pharmacists Association, Alexandria, Va. Reprinted with permission.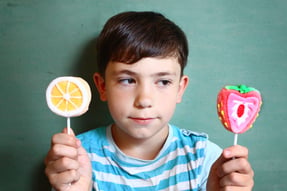 Looking for a simple and effective way to grow sales in your pharmacy? Consider promoting medication flavoring. It just might boost both your profits and improve word-of-mouth recommendations from happy patients.
Recently I spoke with five successful pharmacy managers who make it a point to offer medication flavoring. And, while four of them charge for the service, none of them say the modest fee is the reason they promote flavoring. So why do these innovative pharmacists give customers the option to choose the taste of their liquid medicines?
1. Opens Doors for Cross Retail Promotion
Kevin Musto, BSPharm, owns two pharmacies (Atlantic Apothecary) in central Delaware. Musto is an aggressive advertiser and devotes a fair amount of time and money to local radio and TV. But, he says a big reason he enjoys marketing his flavoring service is because it allows him to inexpensively and effectively market with other local businesses.
Musto likes to distribute flavored lollipops to get his pharmacy's name out to prospective customers. His employees decorate the custom imprinted treats with a ribbon and then give them to local hair salons and banks. When a child sits nicely for his or her haircut, they walk out with a lollipop in the flavor of the child's choosing. And the mom leaves knowing that Atlantic Apothecary provides customized flavoring for children's medicine.
Musto charges $2.99 for flavoring. However, each month the staff selects a flavor of the month and puts that flavor on sale for $1.99. He says customers willingly pay the normal fee but they also feel they are getting a special deal when they choose the flavor of the month. Musto even uses the monthly flavor to support some friendly in-store competition, with a gift card being awarded to the staff member who sold the most of that month's flavor.
2. Attracts Mothers of Young Children
Stacy Welling, while not a pharmacist, owns four pharmacies (all part of Whaley's Pharmacy) in the Jefferson City, Mo., area. Three of them are retail locations. The fourth is a closed door facility. In 2007, she opened a new location in a rapidly growing section of town that appealed to young families. So, she started looking for ways to attract these families to her pharmacy.
While attending a pharmacy conference, Welling came across a booth promoting medication flavoring. She says she was instantly impressed with the service and the marketing support materials the flavoring company provided.
Welling says the most important part of implementing a successful flavoring program is getting the staff onboard. That means training them to offer it with confidence. One way she did that was to get her staff to see this program as a positive health care service, not as an attempt to simply increase profits. Her staff understands that if children don't like the way their medicine tastes, they will likely spit it out or push their mother's hand away and spill the dose. Welling's staff sees flavoring as a way to benefit parents and children alike. That flavoring improves medication compliance as children are willing completes an entire course of therapy.
3. Supports a Hi-Tech Image
Ryan Summers, PharmD, owns five pharmacies under the Summers Pharmacy umbrella. His flagship location in Clinton, Mo., was built from the ground up in 2013. Summers says one philosophy he espouses is bring in technology for two reasons. First, he thinks having his patients see he is using a variety of technology helps to build his image as somebody who is running a modern, up-to-date pharmacy. Second, he says having a variety of automation allows him to interact with customers in a positive way.
While flavoring is not typically thought of as "hi-tech," Summers recently brought in a new fully automated unit being offered by a leading flavoring company. His interest in technology convinced him the unit had both practical and marketing benefits. According to Summers, the new unit is similar to the soda dispensing machine you see at some fast food restaurants. All of the flavoring vials are hooked up to a master fill line. The staff member simply scans the medication's bar code and then hits the button for the flavor the customer selected.
Summers says the unit is attractive and has a variety of colored lights that draw favorable attention. He had the unit installed right next to the customer intake area to provide extra appeal when the staff member suggests flavoring. The unit automatically delivers the exact amount of pure filtered water with the selected flavoring agent. Because the unit selects and delivers the water and flavor automatically, it cuts the time required to reconstitute and flavor a prescription from a minute or more to about 10 seconds. Summers does not charge for flavoring. Instead, he logs all costs associated with the service into his marketing budget and believes it provides, at about 70 cents per flavor, an excellent return on investment.
4. Provides a Platform for Providing Personalized Service
David Pope, PharmD, is an entrepreneur and co-founder of the pharmacy marketing service company, The Creative Pharmacist. Pope has worked for years at Barney's Pharmacy, an eight-store chain based in Augusta, Ga. Pope says that a primary goal at Barney's is to market a variety of personalized services to customers. He thinks that filling an antibiotic could become a launch pad for talking about a whole suite of services the pharmacy provides. Barney's personnel are taught to speak to customers on flavoring, immunizations, medication synchronization, bubble packaging, medication therapy management, and nutritional support.
Barney's typically charges a $3 fee for flavoring. Pope says he believes that when personnel get comfortable with promoting this service with a fee attached they become more open to recommending other feebased pharmacy services.
Pope adds that while the pharmacy offers many services, flavoring has been one of the easiest for customers to understand. That is why they choose to actively promote flavoring on Facebook and on their in-store TV promotional program. He says they like the colorful point-of-sale signage they get from the company that provides their flavoring supplies. According to Pope, flavoring is one of the easiest ways to get started in charging for enhanced care services.
5. Sells Solutions, Not Products
Chris Cornelison, RPh, is owner of Iuka Discount Drug, which has two locations in Iuka, Miss. Cornelison has worked to train his staff to follow the mantra: "We sell solutions, not products." He says the pharmacy's goal is to listen to customer problems and then offer a solution. He also says that he teaches his staff not take it personally if a customer says no.
"Some medicines taste bad, and that is a problem," Cornelison says. Flavoring is a solution to that problem. He says that when a mother comes in with a sick child, both the mother and the child are anxious. Talking about the benefits of flavoring and allowing the child to choose the flavor he or she likes best is an ideal way to reduce that anxiety.
Cornelison believes that when you open up a conversation, it can often lead to an OTC sale, which also improves the bottom line. Anytime he or his staff see a liquid prescription, they see an opportunity to offer flavoring. And, he is not afraid to charge. He says, "If the pharmacy doesn't see a value in the service, then why would the patient?"
Cornelison also believes that flavoring extends far beyond just children. One area they have found acceptance in is with hospice. He says adding flavoring to pain meds just seems to relieve some of the stress and anxiety people feel at this time in their lives.
The flavoring program is included in all of Cornelison's doctor detailing materials. He says the service is easy for others to understand, and the $3 service fee he charges has hardly ever been a problem.
After conversations with these five successful pharmacists and pharmacy owners, it is easy to see the benefits flavoring has on the well-being of customers and the pharmacies themselves. Stacy Welling of Whaley's said it best: "To succeed, you need to deliver a better pharmacy experience, not just talk about it. And, if you deliver a better pharmacy experience, your patients will talk about it." Today's pharmacy manager has a number of ways to deliver that better experience. And perhaps one of the simplest and most overlooked of them is medication flavoring.
Bruce Kneeland is a retired independent pharmacy consultant who still enjoys staying involved in and aware of industry issues. He can be reached at BruceKneeland@KneelandServices.com.