At Palacios Prescription Shoppe, what matters to the community matters to the pharmacy. This means offering their customers necessary pharmacy services, but it's also more than that.It means cheering on local sports teams and contributing to fundraisers. It means making a float to represent the pharmacy in the town's parade. It means truly having a heart for the people in the community. Palacios Prescription Shoppe did not grow a loyal customer base by simply hanging up an "open" sign and waiting for customers to come; the staff has taken the time to make their community's values their own.
As a part of our Taste for 2020 blog series, we're featuring pharmacies that go above and beyond in different areas of their business. Pharmacist Leigh Ann Roemer of Palacios Prescription Shoppe shared how pharmacies can get more involved in their communities and the ways involvement benefits both businesses and customers.
Be a Community Presence
If your town is like most around the country, they offer a variety of events that bring the community together. Participating in these events gives members of the pharmacy staff a chance to meet the people they serve. Adopt the mindset, "If it's important to the community, it's important to us."
If there's an event going on in Palacios, chances are you will find the staff of Palacios Prescription Shoppe in attendance. Whether they're waving from their award-winning float in the Harmonie Club's Valentine's Day Parade, or covered in paint after the Boy's and Girl's Club 5K Color Run, the pharmacy staff always shows up for their community in whatever way needed.
Pharmacist Leigh Ann Roemer explained why community events are so important to Palacios Prescription Shoppe: "We have the opportunity to get to know our customers which in turn helps us provide services and products that meet the specific needs of our patients. We feel like our customers trust us and come ask us questions because they know who we are."
The staff of Palacios Prescription Shoppe poses with their Phantom of the Opera-themed parade float.
Build Valuable Partnerships
Connecting with members of the community is only one piece of the puzzle. It's also important to take time to meet other local business owners and find ways that you can work together. A partnership can be a great way to grow both companies' customer base and introduce customers to more businesses in their community.
Palacios Prescription Shoppe works with a local doctor's office to provide customers with a chronic care management program. The two businesses work together to provide patients who have two or more chronic conditions with better resources, follow-up, and care. The partnership allows the two businesses to spend more time giving patients the level of care that they need.
Roemer explained, "Community support is what keeps the local businesses open. We believe in shopping local and supporting other businesses in our community because we need that same support as well."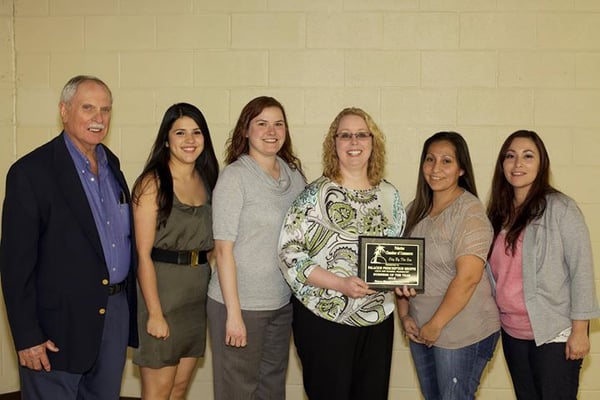 Palacios Prescription Shoppe was chosen for the Palacios Chamber of Commerce's Business of the Year Award. The award is based on community member nominations.
Provide the Right Services
Once you have a complete understanding of the population your pharmacy serves, evaluate the services you offer and make sure the pharmacy provides everything your patients need. Every community is different, so your products and services should be customized to best serve your unique group of people.
When Roemer first began working at Palacios Prescription Shoppe, she noticed that the pharmacy served a large number of geriatric patients. In order to provide them with the best possible care, she became a Board Certified Geriatric Pharmacist.
Palacios also has large Spanish-speaking and Vietnamese-speaking populations, so the pharmacy takes special care to make sure communication is possible for everyone. Pharmacy technicians Corina Venegas and Hanh Vu speak Spanish and Vietnamese respectively, and their fluency in each of these languages helps all of Palacios' customers feel comfortable at the pharmacy. Roemer is also proud that each member of the pharmacy staff is now a pharmacist or certified pharmacy technician. Every member of the team works hard to make Palacios Prescription Shoppe "that little hometown pharmacy where everyone knows your name."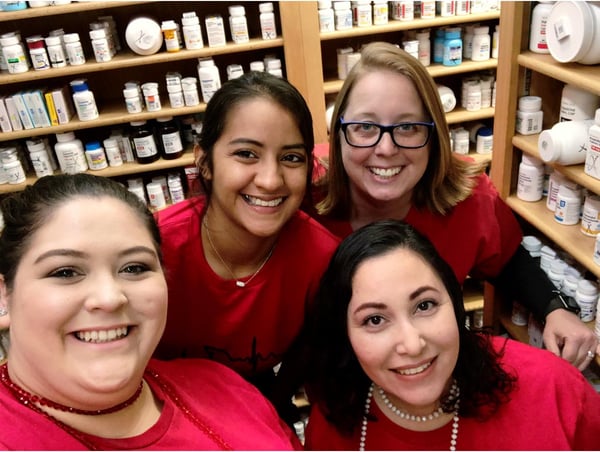 Members of the pharmacy staff wear red in support of the local high school's football team.
To learn more tips to make 2020 your pharmacy's best year yet, download the Taste for 2020 Pharmacy Growth Plan