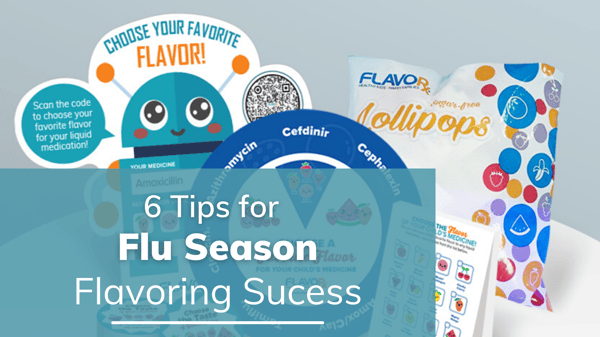 Cough, cold, and flu season is always a busy time in the pharmacy filled with antibiotic scripts, OTCs, and so. much. Tamiflu©. This year, with back-to-back COVID tests and vaccines plus customers on the hunt for the elusive home test, there doesn't seem to be a spare minute in the day to think about the other illnesses that have patients feeling yucky. In spite of the COVID chaos, we want to help make it easy for you to continue helping your patients take their medicine. We've put together these top tips for cough, cold, and flu season flavoring success:
Flavor the right stuff
You know what medications are important this time of year, honestly, you've probably filled a million prescriptions for them in the past month. From commonly dispensed antibiotics like Amoxicillin to flu-fighting Tamiflu, there are all kinds of medicines you can flavor to help kids get better faster when cold and flu season hits. Remember that you can use the same flavoring recipes for generic and brand name versions of a drug. To make life easy on yourself, keep a flavor wheel at drop off/pick up and another at the drive-thru window to easily show kids and parents the best flavor choices for the most commonly flavored medicines.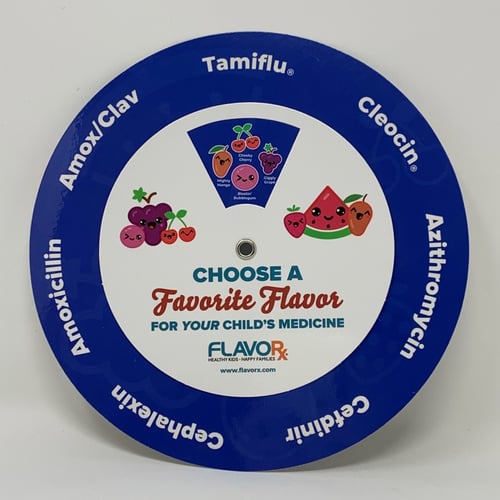 Don't forget about OTCs
While antivirals and antibiotics may be the stars of the show this time of year, OTCs are important too! Many popular OTC medications like Ibuprofen, Acetaminophen, and cough syrups are also great candidates for flavoring. Even medicines that come flavored by the manufacturer can still be given a new taste; people of all ages love having a choice. Sure, a medicine may come flavored cherry, but that doesn't mean your patient likes cherry and will take the medicine without a problem. We recommend putting a note by the cash register for store staff to let customers know they can bring OTC medicines to the pharmacy if they'd like to change the flavor. Note: Check with your state Board of Pharmacy to confirm they don't regulate flavoring OTC medication, or contact FLAVORx at 800-884-5771 for more information.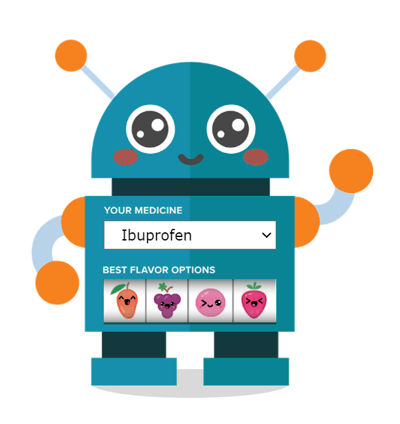 Build social media buzz
Your pharmacy's social media accounts are a great way to spread the word about your flavoring service without spending a dime. To make sure everyone knows where to find you online, hang signs in the pharmacy letting your customers know where they can follow you. If you're looking to build your following, you can incentivize customers with a discount off their next purchase if they follow you and/or leave a Facebook review.
If you're looking for a quick and easy way to promote your pharmacy's flavoring service, we've put together some new flu season posts to share on your social media accounts. To switch it up, try taking a picture of a staff member by your pharmacy's flavoring station and posting it on your page. Customers always love to see their favorite pharmacists' and techs' smiling faces!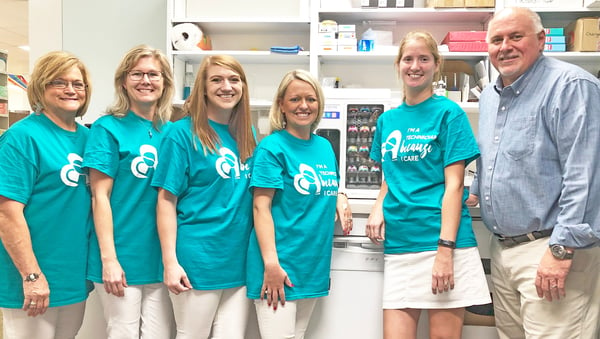 Make flavoring fun
One of the best parts about FLAVORx? It lets you and your customers have a little fun! Our collection of marketing tools are designed to make it both and easy and fun to talk to kids and their parents about flavoring their medicine. From the long-time favorite lollipops to new pieces like the Flavorbot window cling, we have all kinds of materials to help you introduce your patients to FLAVORx. To request any of our available marketing materials, send a message to info@flavorx.com or call our Customer Experience team at 800-884-5771.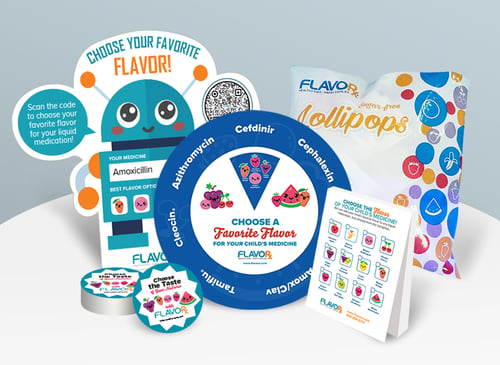 Stay stocked up
Take a minute to check to make sure all of your flavors are fully stocked. No one wants to be the one who has to disappoint a child because you ran out of their favorite flavor, so make sure to reorder anything that looks low. Especially if your pharmacy has a Fillmaster Auto, we recommend keeping an extra bottle of Sweetening Enhancer on hand as it is used in almost all flavoring recipes. See products available to order on the standard and Auto order forms.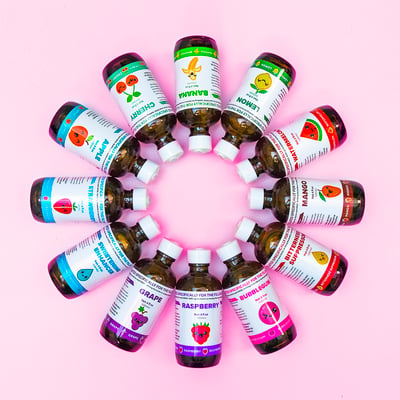 Work as a team
Make sure everyone is on the same page when it comes to flavoring. As a group, decide on the best way to offer flavoring to customers that will be standard for all pharmacy employees for each liquid prescription. It can be as simple as asking "How would you like your child's medicine to taste?" Once you have a plan in place, check that everyone is comfortable using the Fillmaster and/or the Recipe Generator.

During cough, cold, and flu season, you can help make sure a medicine's taste won't stand between a child and their health. We know you already have a ton on your plate, so we want to make it easy for your pharmacy team to get the most out of your flavoring program. If you need to restock supplies, experience an issue with your Fillmaster, or have any other questions please contact our Customer Experience team at 800-884-5771 or send a message to info@flavorx.com. Happy flavoring!