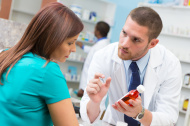 As 2015 kicks off, I can't help but reflect on changing times – especially in the pharmacy space. Gone are the days of simply dispensing medications and tracking script counts.

Today, Pharmacists truly are holistic care providers. This is especially true with respect to the Hispanic customer segment, a rapidly growing segment of the U.S. population, that shows signs of benefiting from a more culturally-sensitive approach than other segments. By properly modifying practices and approaches, pharmacy teams can make a world of difference in the well-being of the Hispanic population.

According the U.S. Centers for Disease Control and Prevention, "Hispanics are twice as likely as non-Hispanic blacks and three times as likely as non-Hispanic whites to lack a regular health care provider." For those who do have access to regular a health care provider, the level of satisfaction is quite grim. Data from the same article shows that 24% of Hispanics report a poor level of health care received. Since chronic disease states are more prevalent in the Hispanic community, that statistic is even more alarming since the long-term, proper management of chronic conditions are more difficult and more costly to manage than acute conditions.

Just a simple Google search on Hispanic consumers shows that there is a lot we can do, especially in the Pharmacy realm, to engage this segment, to provide better care, and win their loyalty. Below are a few ideas you can readily implement in your pharmacy to better attract and satisfy the need of the Hispanic customer segment:
1. Provide bilingual materials.
This may sound overly simple, but you might be surprised at how segmented bilingual communication is. It is important that bilingual communications expand beyond marketing efforts, into all patient education and communication tools. Simply supplying handouts or posters in both English and Spanish can better your pharmacy to serve all of your customers.
2. Make sure your staff is bilingual.
Your whole staff does not need to be bilingual, but at least one person in the Pharmacy should be able to effectively communicate in Spanish at all times. According to "Hispanics, Health Insurance, and Healthcare Access", 21% of Hispanics cite lack of Spanish language skills by Healthcare professionals as the reason for unsatisfactory care. If you can't effectively communicate with your customers, there will be gaps in understanding medication adherence, uses, side effects, and interactions.
3. Counsel the patient with patience, care, and sensitivity.
The Hispanic segment, perhaps more than any other, can greatly improvement their quality of life through professional guidance from health care professionals. Since Hispanics tend to suffer from lack of access to a regular health care provider, Pharmacists are oftentimes "the Hispanic patient's primary information resource on medication therapies. The fact that the Pharmacists are more readily available to answer Hispanic patients' questions about the medication they are taking than any other health care provider, makes them ideal candidates to deliver critical patient counseling." (Hispanics, Health Insurance, and Healthcare Access, Livingston G.) Do not reduce the role you play in health management, especially with Hispanic patients; the extra time you carve out to communicate with them clearly and patiently won't only improve their experience with you right then, it may likely change the course of their health and disease management for a lifetime!
4. Offer Hispanic-focused products.
Many companies recognize the importance of supplying the Hispanic market with products that are more culturally geared to their expectations. This isn't something completely detached from the Pharmacy experience. A great place to start is expanding the flavor offerings both behind the counter and in the OTC section. Behind the counter, bring in a Hispanic-focused flavor, such as Mango, to enhance you current medication flavoring offering. In OTC, look for flavors more likely to attract Hispanic consumers – strawberry, guava, mango, etc. Beyond flavors, chat with your vendors about reliable alternative therapies that may appeal to the Hispanic segment.
Already doing these things in your pharmacy? Tell us about it. We like to hear from you!
---