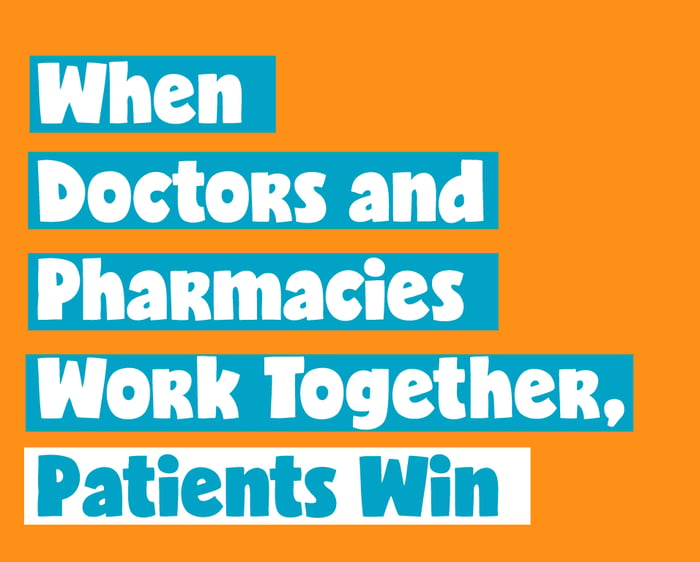 Strong relationships between physicians and pharmacies ensure customers get the best quality care at the most cost-effective price.
Networking with doctors is smart business for Thomas Garza, head pharmacist at The Medicine Shoppe, a San Benito, Texas-based pharmacy."Our pediatrician colleagues work well with us because they know we work well with their patients," said Thomas Garza. "When patients have issues, concerns, or questions about their medication, the doctors know our staff gives their full attention to the sick child and their parents."
Here are three ways Thomas Garza and The Medicine Shoppe win patient referrals from local physicians.
Earn doctors' trust through superior patient care
Patient health is always the top priority. Not only do healthcare providers have an ethical responsibility to promote their patients' well-being, but it's also good for business.
"Doctors and pharmacists make a living by taking care of patients," said Thomas Garza. "Our incentive is to keep people happy by making sure they're well taken care of, which means getting them to take their medicine as prescribed."
When a doctor makes a referral, they're endorsing that pharmacy as an extension of their practice. The referral carries with it the reputation of the physician.
"Our staff is willing to go out of our way to make sure our patients get the best possible care, and our local doctors know that," said Thomas Garza. "The biggest reason we get referrals from physicians is that they know their patients will be in excellent hands."
Help patients take their medicine as prescribed
Physicians need patients to take their medicine as prescribed. But for a variety of reasons, that's not always possible.
"Physicians know which medication will be most effective, but outside of writing the prescription, there's very little that doctor can do to get patients to take their medicine," said Thomas Garza. That's where pharmacists can play a crucial role. "Partnering with physicians allows our pharmacy to create customized care plans for each patient and deliver positive treatment outcomes," said Thomas Garza.
To achieve a positive treatment outcome, the pharmacist should pick-up where the doctor left-off by helping to manage the patients' care.
"We treat folks the right way by giving patients our full attention and ensuring everyone feels comfortable, " said Thomas Garza. "Our staff takes the time to explain a medication so that patients understand why and how they should adhere to their prescriptions."
Moreover, pharmacists should educate and inform their physician colleagues about pharmaceutical services, programs, and best practices which are available to patients, such as flavored medicine.
"I position FLAVORx to pediatricians as a service [doctors] can offer patients who have difficulty taking their medicine," said Thomas Garza. "Doctors trust us to use FLAVORx as a tool to get patients to take their medicine and feel better."
Demonstrate, document, and stand-behind results
Thomas Garza says earning a new patient referral from local doctors ultimately comes down to the physician's clinical judgment.
"Physicians have come to trust us by observing the way we take care of our patients and analyzing how we help patients stick with their prescriptions," said Thomas Garza. "Our pharmacy can demonstrate an improved adherence to medication."
Mr. Garza's staff uses Fillmaster to reconstitute medications and FLAVORx to make prescriptions more palatable, which leads to increased adherence.
"Doctors appreciate that we don't change the volume of the medication when using Fillmaster or FLAVORx," said Thomas Garza. "They know their patients will receive the appropriate dosage."
Mr. Garza stands behind his pharmacy's products and service. He says demonstrating efficacy is vital.
"When physicians refer patients to our pharmacy, they need to know we won't compromise their patients' health," said Thomas Garza. "Fillmaster data helps us prove we're not changing concentrations or the stability of the medication."
The most appropriate solution for doctors is the one which is safest for the patient.
"We have a good, quality product which is easy for us to stand behind and for doctors and patients to get excited about," said Thomas Garza. "We show doctors and patients that when it comes to pharmaceutical expertise, we're at the top of our game."
Want to learn more about FLAVORx, get in touch with us.