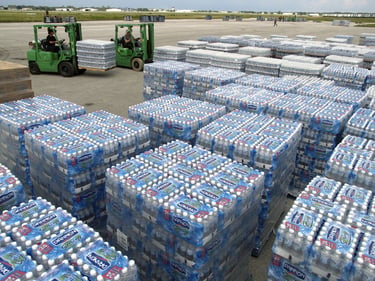 Earlier this Fall, the people of the United States saw three record-setting hurricanes leave widespread destruction across Texas, Florida, Puerto Rico and the U.S. Virgin Islands. Harvey, Irma, and Maria struck with deadly force, leaving millions displaced and billions of dollars of damage.
Despite the destruction and devastation, such disasters give us an opportunity to unite to help our families and communities heal again.
Not surprisingly, the retail pharmacy industry, too, has been quick to move on disaster relief for hurricane victims. This industry knows better than most that the ability to deliver critical treatments and medications does not take a hiatus—especially in times of crisis.
Let's take a look at how some of the industry's leaders have demonstrated decisive leadership during this trying time:


Kroger and Walgreens Keep the Lights on in Puerto Rico
When the devastating Hurricane Maria swept through Puerto Rico, the entire island's electric grid was destroyed, leaving inhabitants without access to many everyday necessities. Walgreens and Kroger, fortunately were prepared for a rapid response.
Less than one week after the hurricane hit in late September, Walgreens reported that more than half of its 120 stores were up and running again thanks to on-site generators, enabling locals to get access to vital supplies and medications. Walgreens has also committed $250,000 to the Red Cross' Hurricane Maria efforts.
Kroger, which has a Specialty Pharmacy location based in Puerto Rico, was also quick to begin using its facilities to gather and distribute essential supplies and disaster relief to struggling families on the island. The store has also made a generous pledge to match customer donations up to $25,000 to benefit the Red Cross and its ongoing efforts to provide support to Puerto Ricans.
H-E-B Supports Fellow Texans
H-E-B, the San Antonio-based grocery company, went all out to assist evacuees and people forced into shelters due to Hurricane Harvey. The company has a fleet of disaster relief trucks, mobile kitchens, and emergency response vehicles, all of which were deployed to aid victims of the storms. On top of donating thousands of meals and caseloads of water, H-E-B employees from unaffected cities swooped into the Houston and Corpus Christi areas to help reopen stores as quickly as possible, giving community members a place to shop for much needed supplies.
Walgreens Plans Before Harvey
Before Hurricane Harvey made landfall, Walgreens staged portable generators at store locations throughout Texas to support local relief efforts and ensure that communities would have access to some electricity during the storm. The company also partnered with United Airlines to get medical and first aid products from Chicago to the Houston area.
In addition, the company donated $200,000 to the Red Cross' relief efforts for both Harvey and Irma victims. On top of the cash contributions, Walgreens has also started a nationwide customer donation program which enables Walgreens patrons to send food items, first aid and medical equipment to impacted areas.


CVS Health
Retail pharmacy chain CVS was also quick to respond in the aftermath of Harvey and Irma. Both CVS Health and CVS Health Foundation donated more than $400,000 in cash and in-kind donations for Hurricane Harvey victims in Texas. Following both Harvey and Irma, CVS launched a customer donation program and has pledged to match with critical products and supplies including cleaning supplies, non-perishable food iteams and personal care items up to $10 million, they also assisted communities with pharmacy needs with mobile pop-up pharmacies.
Pharmacies Put Emergency Plans into Practice

As part of Florida's hurricane preparations, retail pharmacies across the state enabled customers to refill 30-day emergency supplies of medications early from any in-network pharmacy in the state for two weeks. This required significant collaboration and communication between numerous competitors, but ensured that care could continue with some degree of normalcy for the most vulnerable populations.
In a highly competitive industry, it can be all too easy to let business sensibilities get the better of our humanity. But when disaster strikes, the retail pharmacy industry is always ready to work together and adapt in order to continue fulfilling the promises they've made to their customers. Here at FLAVORx, we offer our appreciation and gratitude to all the members of retail pharmacy for stepping up and working together to help Americans get back on their feet again.