FLAVORx Donates Over 150 Flavoring Systems to Pharmacy Schools and Pharmacy Technician Programs; Flavoring Information Now Included in Popular Pharmacy Textbook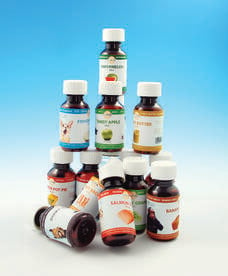 FLAVORx provides pharmacy schools and technician programs with the tools and resources necessary to educate students about the role of flavoring with respect to medication adherence and the patient experience. Using the FLAVORx system, faculty members encourage their students to recognize the importance of taste barriers and personalization when it comes to pediatric medication adherence.
With over 40,000 pharmacies now offering the custom-flavoring program across the U.S. and Canada, chances are high tomorrow's pharmacists and pharmacy technicians will come across FLAVORx in the course of their career. To ensure they possess the knowledge and experience to utilize this adherence-boosting service from day one, FLAVORx has partnered with over 150 pharmacy schools and pharmacy technician programs to bring flavoring to the classroom and lab.
Faculty members currently utilizing the FLAVORx system in their pharmacy practice labs and compounding labs have been pleased with the results and students have expressed appreciation for the exposure to a common pharmacy service.
"We have students break into small groups and discuss mock scenarios where they might have to flavor, discuss flavor choices, and discuss ideal flavor decision-making," said Robert Shrewsbury, PhD, Associate Professor at the UNC Eshelman School of Pharmacy. "Many students also work in pharmacies that use FLAVORx and are able to share their experiences with the group. I believe it is a nice introduction from the education standpoint, to familiarize our students with FLAVORx and prepare them for real world scenarios."
Recognizing that today's pharmacist and pharmacy technician students are tomorrow's pharmacy leaders, FLAVORx highlights the importance of future pharmacists and technicians receiving adequate training to not only anticipate adherence barriers and acknowledge the individual preferences of their patients, but also to realize there are resources available to facilitate higher medication adherence and achieve better outcomes.
"We commend all of our pharmacy school and technician school partners for embracing our flavoring program and we thank them for their commitment to educating proactive future pharmacists and technicians," said Ursula Chizhik, Pharm. D., and Director of Pharmacy Programs at FLAVORx. "We look forward to the day when every pharmacy student across the country has the opportunity to flavor as part of the academic curriculum."
Furthermore, to help ensure the seamless integration of flavoring into the academic curriculum, FLAVORx collaborated with Wolters Kluwer Health | Lippincott Williams & Wilkins, to incorporate information into the popular pharmacy textbook titled "Ansel's Pharmaceutical Dosage Forms and Drug Delivery Systems". The textbook's lead author, Loyd V. Allen, Jr., Ph.D., RPh., integrated flavoring content into relevant chapters, case studies, and discussion questions. The tenth edition of this textbook is currently available. According to Dr. Chizhik, this is an important step. "I found that faculty members struggled to figure out how and when to incorporate flavoring education and pediatric medication adherence into the classroom. Having information as part of a standard textbook curriculum will ensure that the real world concepts of taste, choice, and flavoring are addressed in pharmacy schools."
FLAVORx hopes that by empowering students with a unique experience and a new perspective, they inspire newly graduating pharmacists and technicians to embrace their role as patient advocates and key constituents in the fight for higher medication adherence.
About FLAVORx
FLAVORx has been helping people take their medicine since 1994. The Columbia, MD based company's mission is to improve lives and health-related outcomes through higher medication adherence. Using FLAVORx's copyrighted flavoring recipes, pharmacists have custom-flavored over 50 million prescription and over-the-counter medications for children, making it easier for them and their parents to deal with the stresses of being sick. FLAVORx also supplies pharmacists and veterinarians with veterinary prescription flavoring systems to make pet medication easier to swallow.