Just recently, I was a Career Day presenter at my son's elementary school and it was a fantastic experience! I was there to teach the kids all about the wonderful world of pharmacy and highlight some of my specific responsibilities as a pharmacist at FLAVORx. The kids loved my presentation and eagerly absorbed the information.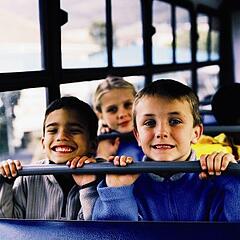 They are 10-years-old, inquisitive, and asked such great questions. I left school convinced that the next time they find themselves struggling with a liquid medication or getting frustrated while trying to swallow a tablet, they will remember that Mrs. Chizhik said that FLAVORx offers great ways to overcome these obstacles.
They were so appreciative that the next day I received a stack of wonderful thank you letters from the students. I was so touched as I read each individual letter; each student thanked me for my time and shared what they learned most from my presentation. If only everyone could be such good listeners! Obviously I cannot share each letter with you since that would simply take up too much time and space, but I thought you might enjoy reading some bits and pieces of what our true target audience has to say about FLAVORx. Kids really have a way with words. Enjoy!
"My favorite part was when you told us that we should pick our own medicine, and then when I went home I told my mom…that when kids pick their medicine it helps them get better." ~Rheign

"I was surprised to learn that there were so many flavors." ~Gabbie

"I really enjoyed the Wheel of Yuck and it was a little surprising to learn that there is a spray that can make your tongue slippery for a pill to go down." ~Paige

"It was especially interesting when we learned about flavoring of medicine so that kids won't have difficulty taking it." ~Hannah

"I think you did a really good job telling us about your job and the requirements you have to do before you become a pharmacist." ~Gracie
"I learned that you need to be good at math and science if you want to be a pharmacist." ~Lindsay
"I learned how you test the flavors that you use in medicine to make sure that it is safe and ok for kids to take it." ~Jayla
"I learned so many new things, for example, I learned that kids have more taste buds than adults." ~Natalie
"The most interesting thing that I learned was that humans have 10,000 taste buds." ~Brett
"Being a pharmacist sounds really cool." ~Michaela
"Making medicines taste better is awesome!" ~Ellie