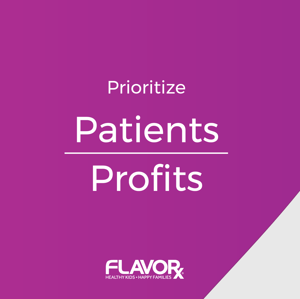 Forming an emotional connection with customers could be a pharmacy's secret weapon. In speaking with eight pharmacists and technicians, one trend is clear: empathy is the key to becoming an extraordinary pharmacy professional.
When customers feel connected to their pharmacy, they're much more likely to return. These five pharmacy professionals put this concept into practice every day. Here's how and why they focus on building customer relationships.
Develop Lifelong Customer Relationships
Stephanie Saxon, Licensed Practical Nurse (LPN), 22-years spent in retail pharmacy: "The hard truth is that the pharmacy across the street offers the same products as your store. The pharmacists working there can each do the same job as you. The only way you can consistently win the repeat business of your patients - and keep your job - is to develop genuine relationships with your customers built on trust, care, and assuming responsibility for their health. I've earned a 90% prescription refill rate over my 20+ year career in retail pharmacy. A big reason for that success is that my patients would bring their business to me as I progressed from pharmacy-to-pharmacy throughout my career. I earned my customers' trust through FLAVORx. Any pharmacist or technician can earn the type of customer loyalty I experienced by interacting with your customers, taking an interest in their wellbeing, treating them with respect and showing them you have their best interest at heart. You need to care about your customers and do right by them. "
Sarah Henderson, Certified Pharmacy Technician (CPhT), 19-years spent in retail pharmacy: "When I began working at an independent pharmacy, one of the first things the owner told me was: Take care of the customers, and they'll take care of you. That's the Golden Rule. We know our customers, we know their names, we know their families, and we know what they like and what they don't. We've become a part of their lives. Pharmacy staff should be empowered to do whatever they can do to help customers. We know our customers. We know when they prefer certain [drug] manufacturers, and do our best to have those medications stocked for them. I love getting to know the little things about my customers, such as their birthdays or the names of their children or grandchildren. I even know their pets' names because they've become regulars!"
Bethany Cannon-Meadows, Pharmacy Technician, Louis Morgan Drugs #4: "Our staff is committed to working with patients for life. We don't just fill their prescriptions; we're there to share in the special moments. The trick is to treat your customers like family, because each customer is trusting you with their health - they are putting their lives in your hands. I greet each returning customer by their first name. It's important to have a personal relationship with your patients because they trust you with their health. Customers come into our pharmacy to pick up important medications that directly impact their well being; they need to talk about that medicine and often we're the only people they can talk to about it - we're more accessible than their doctors!"
Chris Cornelison, Owner, Iuka Discount Drugs:" We're focused on the one-to-one relationships we have with our customers. If we can improve customer relationships, then we can keep our patients compliant with their medications, which keeps them coming back into our store. Fillmaster and FLAVORx support those relationships. Fillmaster helps our staff anticipate patient needs. We use it as a conversation starter with customers, which is the first step in a long term relationship. Simply asking a patient about their preferred medicine flavor creates a pharmacy experience that invites the patients to participate. When we take exceptional care of one family member, we can be sure that we've won that family for life. They trust us because of our professionalism, but they love us because we added a little fun to an otherwise boring and stressful situation."
Thomas Garza, Head Pharmacist, The Medicine Shoppe:" We're known for how we treat people. We're 100% customer focused, 100% of the time. We treat customers like family, and we use FLAVORx to help us care for them. We give patients our full attention and ensure everyone feels comfortable. Our staff takes the time to explain a medication so that patients understand why and how they should adhere to their prescriptions. FLAVORx is a tool that helps our pharmacy offer great customer service. We treat folks the right way, whether it's taking care of something another pharmacy can't or won't do - like changing the dosage or taste of a given medication."
The Little Things Make a Big Difference
Ruth Del Rio, Pharmacy Technician, Walmart: "Do whatever it takes to deliver memorable customer experiences. Even the little things go a long way. It could be as simple as taking a few extra minutes to review a prescription with a nervous patient. You see the gratitude in their face. Watching my customers' health improve as I can gain their trust is the ultimate satisfaction. As a technician, you want to make a difference in your patients' lives, even if that means doing something special for them."
Stephanie Saxon: "I would encourage your customers' good behavior by putting little messages on customers' medication, like a "way to go!" sticker if my patients took their medicine as prescribed. Those small gestures provide an opportunity to open a dialogue with your customers. Pharmacists and technicians need to take an active role in their customer's health. FLAVORx is another way to show you care about your customers. Plus it improves community health. Customers who favor their medicine, utilize their medication appropriately, and are healthier and happier."
Thomas Garza: "Flavored medicine is important to our patients. FLAVORx is a good way to let our patients know that we'll go the extra mile for them."
Bethany Cannon-Meadows: "Customers get excited because our store has more than the three standard flavoring options they're used to, and our staff takes the time to recommend the flavoring combinations that work best with a patient's specific medicine. Working with our patients to customize the taste of their medicine sets us apart from other pharmacies in the area."
Prioritize Patients over Profit
Sarah Henderson: "When pharmacies prioritize customer care over profit, staff can provide exceptional attention to each customer. In my experience, customer care suffers when pharmacies become too focused on the bottom line. I've been responsible for scheduling staff on a tight budget, and it's hard to deliver excellent customer service with one pharmacist and one or two technicians. The money pharmacies save in salary, they stand to lose in repeat customers. It's practically impossible to deliver exceptional customer service when staff is spread so thin. There should never be a skeleton crew working in a pharmacy because that's how mistakes get made and how customer service suffers."
Bethany Cannon-Meadows: Our staff bonds with customers by working with them to customize the taste of their medicine. Customers get excited because we've surprised them with exciting, unexpected flavor recommendations and showed them we really care about their wellbeing. Pharmacies that show up in their communities - regularly, consistently, and generously - are the ones who win. Revenue is not the primary focus for successful pharmacies. Focus instead on delivering extraordinary customer care. I remind myself that these people matter; They're not just dollar signs at the cash register.
---