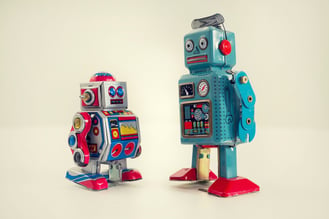 With retail pharmacy becoming highly commoditized, everyone in the industry is under pressure to provide a stellar customer experience to differentiate from the competition. In order maintain a high level of patient care and engagement, without burning out pharmacists, many companies have started to introduce automated technology to optimize their workflow and meet customer demand for a speedy and friendly experience at the pharmacy counter.
One might argue that automated retail pharmacy solutions have entered a gold rush of sorts, with businesses moving quickly to gain a competitive edge. According to a recent Research and Markets report, the retail pharmacy automation market is expected to climb steadily through 2025 at a CAGR of 7 percent.
There are many ways that retail pharmacy is likely to introduce automation in the coming years - the Fillmaster Auto, for example, helps automate reconstitution and flavoring, but automation goes as far as automating pill dispensing and the storage, tracking and reordering of medications. Each of these provides unique benefits to the workflow behind the counter.
Here are a few ways that pharmacies around the country are leveraging automation to offer better customer experiences today.
CVS introduces health and wellness vending machines
Earlier this year, CVS introduced a plan to put automated vending machines in locations throughout the Northeast as a trial to offer customers access to pharmacy products outside of their brick-and-mortar locations. The machines include dozens of over the counter health products, beauty supplies and healthy snack options. Locations include airports, college campuses and business parks. If the trial goes well, CVS may expand the project nationwide in the coming year.
Can't find the ibuprofen? Walmart robots can help
Walmart officials believe that one of the biggest challenges facing its pharmacy customers today is, essentially, an inventorying problem. Customers often can't find in-stock items, and employees can't go looking for products in a timely manner. To solve this issue, Walmart has introduced a self-scanning robot that can efficiently organize shelves and track down hard-to-find items. Walmart hopes this will cut down on shopping time and ensure that every customer finds what they came for.
Machine-filled prescriptions increases adherence, free up pharmacists' time
At Burlington Community Health Center in North Carolina, an automated robot fills 70 percent of the pharmacy's 6,000 monthly prescriptions. This robot can sort 400 different medications, labels the products and can even cut pills to for half-doses. Then, pills are distributed into a package that is labeled with instructions and splits doses so that patients know exactly when to take their medication. Pharmacists at the center believe this high degree of specificity helps improve outcomes by increasing adherence. Further, the clinic's pharmacists can also spend more time speaking with patients about more complex matters, having been freed up from manually having to manage prescription filling.
Pharmacies test out flavoring automation
Pharmacy teams have recently identified the need for a solution to reduce the time spent custom-flavoring children's medications, and have begun investing in new dispensing technology to automate the flavoring process. Now, when patients choose a favorite flavor for their amoxicillin, the flavor is dispensed during reconstitution, reducing fill time by 2 to 3 minutes or more. This has led to better enthusiasm for the flavoring service, greater patient engagement, improved execution with the flavoring service, and ultimately a better pharmacy experience for children and parents.
In the coming years, it appears likely that the most successful retail pharmacies will be those that can best integrate automated solutions into business operations. The potential to improve patient outcomes and foster a quality customer experience simultaneously will set retail pharmacies apart from their competition.