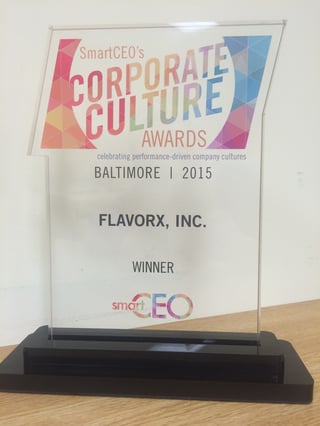 FLAVORx has been awarded for their performance-driven company culture in the 2015 Baltimore SmartCEO's Corporate Culture Awards. The SmartCEO's Corporate Culture Award recognizes companies in the Baltimore area who have demonstrated a remarkable company culture. The ceremony took place Tuesday, December 15, 2015.
Columbia, Maryland — December 17, 2015 – FLAVORx announced today that it has been awarded SmartCEO's Corporate Culture Award for a performance-driven company culture. FLAVORx has continuously worked to improve and develop their company culture through multiple programs, many of which involve volunteering and giving back to the community through charities like, Icing Smiles and The Friends of Jaclyn Foundation. FLAVORx's CEO, Stuart Amos believes "our strong corporate culture makes our employees truly feel good about what they do. We've helped over 60 Million children have an easier time taking their medicine by personalizing the taste of it."
FLAVORx was honored at SmartCEO's Corporate Culture Awards ceremony on Tuesday December 15, 2015 at Under Armour's new incubator facility, the City Garage. "This award is a testament to the hard work FLAVORx has put towards emphasizing the importance of a good company culture" says Chris Cielewich, SVP of Independent Accounts at FLAVORx and acceptor of the award on behalf of the company. Winners and guests enjoyed the amenities of the facility as well as played with virtual games provided by the many corporate sponsors. To learn more about winners of the Baltimore SmartCEO's Corporate Culture Awards, visit www.smartceo.com/baltimore-corporate-culture-awards/ .
ABOUT FLAVORx
FLAVORx, a Maryland-based biotech company, has been helping children take their medicine since 1994. The FLAVORx Pediatric System is available in nearly 45,000 chain and independent pharmacies. Using FLAVORx's copyrighted flavoring recipes, pharmacists have safely flavored more than 65 million prescriptions and over-the-counter medications, reducing stress levels for parents and giving children some control over their own wellness. The company's mission is to improve lives and health-related outcomes through higher medication adherence.
ABOUT SmartCEO:
SmartCEO's mission is to educate and inspire the business community through its award-winning magazine, connections at C-level events and access to valuable online resources. SmartCEO's integrated media platforms reach decision makers in the Baltimore, New York, Philadelphia and Washington, DC metropolitan areas. SmartCEO awards programs celebrate entrepreneurship and the achievements of businesses throughout the region, more specifically the SmartCEO's Corporate Culture Awards, celebrates Baltimore's top performance driven cultures.
---