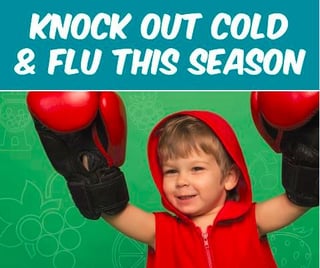 This Flu season, pharmacy staff members can help children recover from the flu faster by making sure they are compliant with their medication. A small biotech company in Maryland has developed personalized taste options for liquid medications, including Tamiflu, the medication most commonly prescribed to fight the flu.
January 18, 2016 - Columbia, MD.
Every year the United States experiences an epidemic of the seasonal flu, and this year with outbreaks beginning as early as October, 2015. The Center for Disease Control and Prevention (CDC) has already predicted that this year's flu season will last until May of 2016. As families across the country are confronted with the outbreak of the flu virus, FLAVORx, a Maryland-based biotech company, offers a solution to make medicine-time easier. For over 20 years, in more than 45,000 pharmacies across the United States, FLAVORx has been supplying pharmacies around the United States with a system for personalizing the taste of liquid medications – this includes, the #1 prescribed medication for children with the flu, Tamiflu. Flavors are available for both commercially prepared Tamiflu and the compounded version, which is commonly used when shortages of Tamiflu liquid arise.
"Letting a child choose the taste of their medication, regardless of the existing taste, can make a big difference when it comes to helping a child feel better quicker," said Dr. Ursula Chizhik, FLAVORx Director of Pharmacy Programs, "FLAVORx helps improve the palatability of medications which can make medicine-time much easier. Tamiflu, known to have a bitter taste, can be an especially important medication to personalize the taste because the longer a child is not adherent to their medication, the longer it can take to recover."
When a parent goes to the pharmacy to drop-off or pick-up a child's liquid prescription, they simply request to have their child's favorite flavor added to the medication. The pharmacy staff will customize the taste of the medication behind the counter. The Pharmacist or Technician can also suggest recommended flavors, which are based on FLAVORx's 20 years of experience in personalizing the taste of medications.
Pediatricians are also encouraged to recommend the custom-flavoring option to patients to ensure the most positive outcomes possible. While typical pediatric medication adherence rates, a measure of how well people follow their medication regimen, hover around 50% to 60%, multiple studies indicate this number jumps to over 90% when medications are custom-flavored at the pharmacy.
Traditionally a flu shot is the first and best line of defense; although once the flu is contracted by a child, properly taking a prescription antiviral medication, like Tamiflu, can help lessen the severity and duration of the infection. Custom-flavoring for liquid prescriptions, a service widely available in pharmacies across the country, is one proven way to help children take their medicine so they can get better faster.

---