New app for iPhone aims to improve adherence to pediatric medications and simplify the road to wellness by giving parents and children the ability to choose the taste of their liquid medicine digitally. Doctors, nurse practitioners, pharmacists, and pharmacy technicians can also use the app to better engage with their patients and improve outcomes.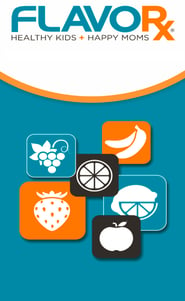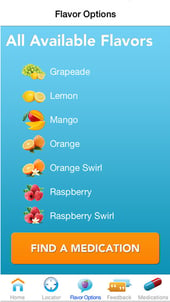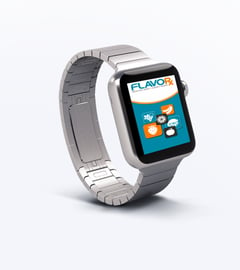 Columbia, Maryland - FLAVORx announced today the immediate availability of their first app for iPhone. The app is designed to be an extension of the company's custom-flavoring service for children's medicine, which is available in over 40,000 pharmacies across the United States. By putting the power of taste choice in the hands of parents and their children, the company hopes to facilitate the conversation between patients and their healthcare providers regarding the importance of medication adherence.
"We are always looking for new, innovative ways to help people take their medicine as well as better connect healthcare providers to their patients", said Stuart R. Amos, President and CEO of FLAVORx. "Our new app leverages the immense popularity of the iPhone, especially among parents of young children, to accomplish both goals."
According to Babycenter's 2014 US Mobile Mom Report, 88% of moms have a smartphone. 60% of these smartphone-toting moms use their digital devices for parenting advice.
"Today's moms are always on the move, which means that smartphones are the single most important tool for communicating with them," said Linda Murray, Senior Vice President and Global Editor-in-Chief, BabyCenter. "It's extremely important that we understand their needs, give them the mobile tools they need to make their lives easier, and figure out the best ways to reach them wherever they are during their busy days and nights."
Studies show that 7 in 10 parents struggle to give their children medicine. Much of this struggle can be attributed to children not liking the taste of medication or the experience of taking it. With FLAVORx, pharmacists are able to customize the taste of a child's liquid medicine to his or her favorite flavor, a unique way to have a child take a more active role in their wellness plan. The company's new iOS app lets a parent, prescriber, or patient discover the best taste options for children's medications right on their iPhone and quickly locate a nearby pharmacy that offers taste-customization.
With the announcement and rollout of the Apple Watch, FLAVORx is also developing apps to leverage the power of wearables to improve medication adherence and outcomes. With the help of these two technologies, the iPhone and Apple Watch apps will simplify life for parents, children, and their healthcare providers.
The new FLAVORx app is free and currently available to download in the iTunes App Store.