When FLAVORx first began 25 years ago, we were a small company with a big idea about helping kids take their medicine. We would never be where we are today without the pharmacies that believed in our mission since the very beginning. Apple Discount Drugs, located on Maryland's Eastern Shore, is one of those pharmacies that has been with us since we got started in 1995 and is still one of our valued partners to this day.
We spoke with Marketing Director Tish Withers, who gave us some insight on what makes this local pharmacy so special and what FLAVORx means to their pharmacy. As we celebrate our 25th anniversary, we'd like to take a moment to spotlight this pharmacy that has been with us throughout this journey.
A Special Kind of Pharmacy
Since 1971, Apple Discount Drugs has focused on providing their customers with everything they need to live a healthy lifestyle. They've been able to give patients access to pharmacists, pharmacy techs, respiratory therapists, certified diabetes educators, nurses, insurance and billing specialists, and more, all under one roof. Withers said of their team, "Our staff is composed of caring, compassionate, local professionals. We have many resources and services to offer our Apple customers. We are a pharmacy, but we do so much more."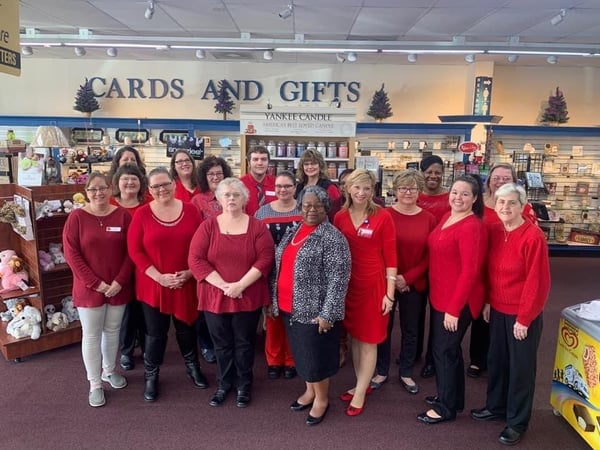 The pharmacy staff at Apple wears red in support of Go Red for Women, a national initiative that encourages heart health for women.
For an independent pharmacy to succeed for almost fifty years, good leadership is absolutely necessary. Withers said, "We are a team that cares about each other, about our customers, and we do all we can to get our customers what they need. Apple's owner, Jeff Sherr, walks through each department to say good morning to his employees every day without fail and is here with his COO Zack Sherr every day working and making things happen, and solving all issues beside his team."
Caring for the Community
Apple Discount Drugs doesn't just take great care of their pharmacy customers; they also work hard to help members of their community. Withers told us, "We are currently in our second year of our 'Pitch In' campaign. Each month we pick a local organization that we encourage our customers and staff to pitch in donations to."
So far they have donated to their local police department and fire companies, and contributed supplies to schools, books for the local hospital daycare center, supplies for local veterans' service dogs, care packages for soldiers through Operation We Care, and supplies for local shelters just to name a few. Withers said, "This has been an amazing community-building journey. We hope to do much more."
She added, "Apple also loves to sponsor a local little league team and has for years. In fact, our Big Candy Apple even ventures out on the field to throw a pitch and to deliver Big League Chew. We take part in Women Supporting Women health fairs and breast cancer awareness walks every year, as well as health fairs at the local colleges. We welcome any opportunity to help educate the community in healthcare."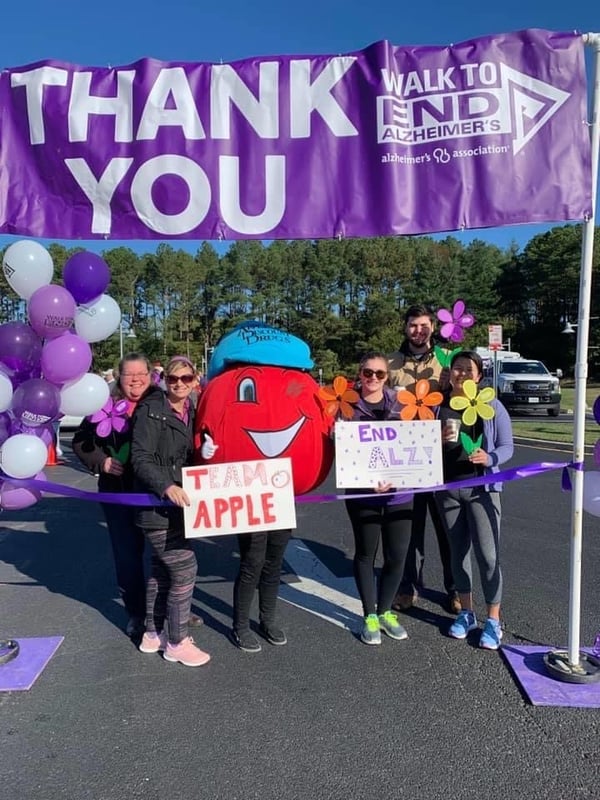 Apple Discount Drugs team members participate in a Walk to End Alzheimer's.
In light of the COVID-19 pandemic, the pharmacy has done their part to help. Withers told us, "Apple Discount Drugs became a self-testing Healthmart collections site for COVID-19. For the month of June, we conducted two testing dates each week to help with this cause. It seems collectively as a community, we have flattened the curve in our immediate area and our local hospitals are in well control, doing an excellent job."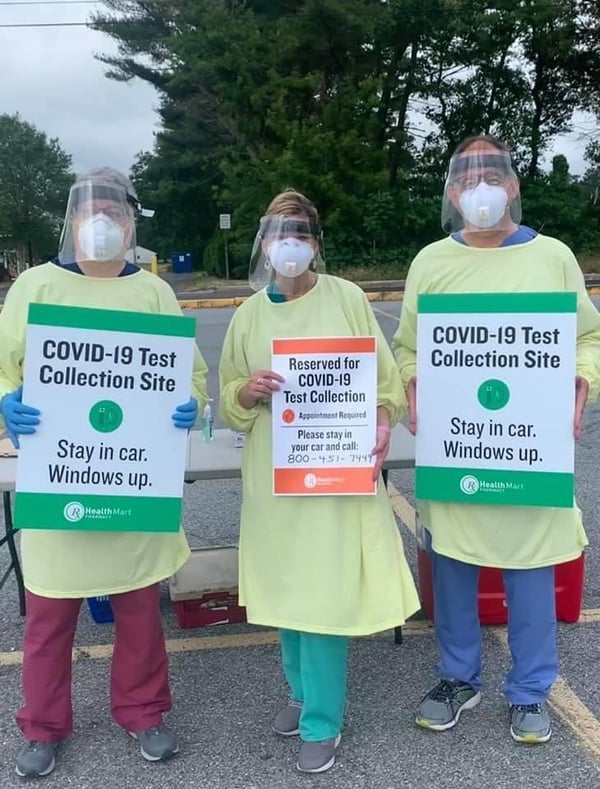 Apple Discount Drugs employees ready to help at their COVID-19 self-testing site
The FLAVORx Difference

Apple Discount Drugs has always worked to provide the services that mean the most for their patients, so when pharmacies first had the chance to offer FLAVORx, Apple saw the potential impact that flavoring could have for both their patients and their business. Withers explained, "We were one of the first independent pharmacies that partnered with FLAVORx as we saw the value and the niche and thus helped create opportunities for us."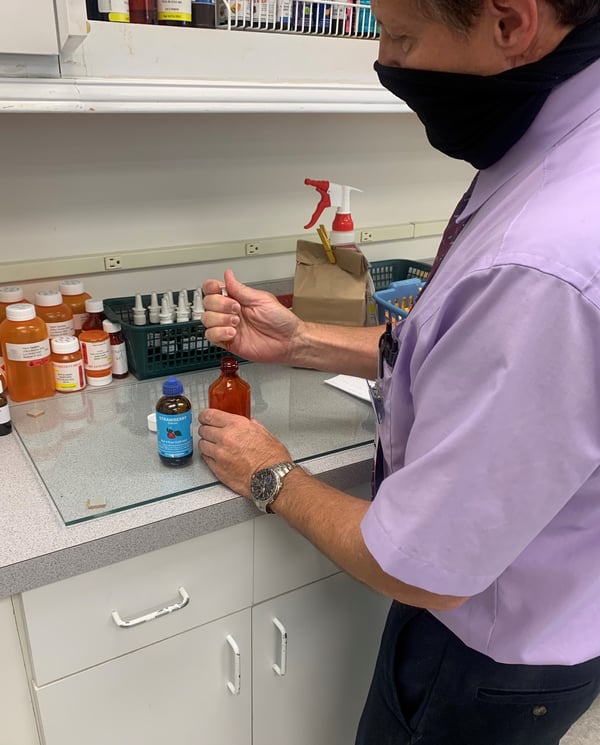 Pharmacist Rob Horsey adds strawberry flavor to a medication in the compounding lab.

Over the past 25 years, pharmacies have only gotten increasingly competitive, whether its competition from one of the many chain pharmacies down the street, or services that ship prescriptions right to patients' doors, pharmacies are up against a lot.
Withers explained the difference FLAVORx made for their independent pharmacy: "It gave us a competitive advantage over the chains back then, but it didn't end there. The ability to solve patient problems and at the same time provide a positive customer experience enabled us to fortify our position as a leader in the marketplace." As many pharmacies work to provide an excellent experience, FLAVORx can help set them apart.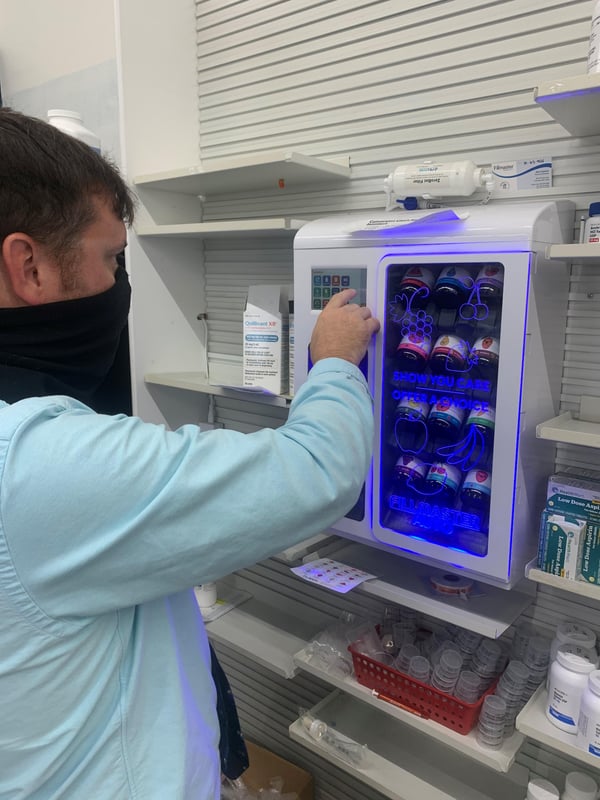 Pharmacist Geoff Twigg flavors a medication using the Fillmaster Auto.
From day one until now, our pharmacy partners have proven that giving a patient the option to change the taste of a medication can make all the difference for their health. At Apple, Withers explained, "Our compounding pharmacy makes life changing medications. When a child or pet absolutely will not take their seizure meds and a family is in despair, a flavored medication can be the difference that saves
their life."
Withers added, "Apple being able to provide this service is one of the reasons our public continues to use our pharmacy. This is a service we have offered for the past 25 years and has helped earn us Best Pharmacy on the Eastern Shore for 21 years straight."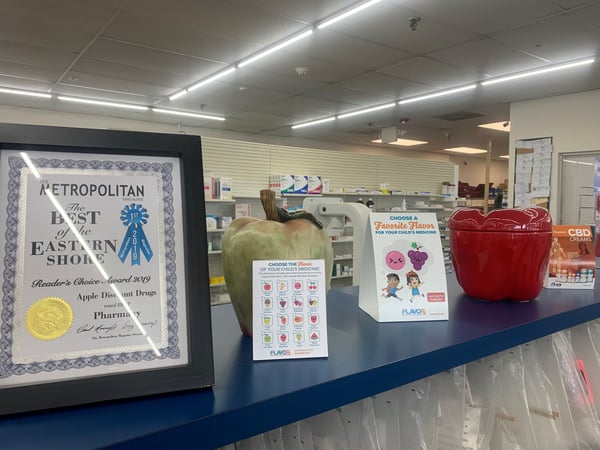 Apple Discount Drugs, a FLAVORx pharmacy, has been named Best Pharmacy on the Eastern Shore for 21 years straight.
As FLAVORx celebrates 25 years in business, we're proud to say that an amazing pharmacy like Apple Discount Drugs has been with us since the very beginning. We look forward to many more years of working together to make sure a medicine's taste never stands between a patient and their health.