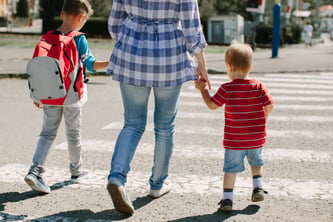 All across the country, kids are reconnecting with their friends at school and sharing stories of their fun-filled summer adventures. They're also sharing another thing...germs. Back to School unfortunately also means Back to Sick for our nation's children. There's no avoiding it. And as one of your communities most trusted healthcare resources, you'll be front and center with parents as they deal with those inevitable ear infections, throat infections, colds, and the flu. So get ready. Here's how:
Offer Flu Vaccinations Early And Often

According to the CDC, "Children, especially those younger than 5 years, are at higher risk for serious flu-related complications." An annual flu shot is the best way to avoid getting the flu and the best way to prevent it from spreading. Parents know this just as well as you do. So when you see mom or dad in the pharmacy, ask them "Have your kids had their flu shots yet?". That gentle reminder could make all the difference for that family and your community at-large. And based on how the flu season has played out in Australia this year, we could be in for a doozy.
Do Them A Flavor
It's no secret that kids don't like taking medicine, even the stuff that tastes decent, like Amoxicillin. The FLAVORx program is a great way to make the medicine-time experience better. Kids love choosing the taste of their medicine. Parents love not having to stress when it comes time to give their kids medicine. The best part is, it's easy. Just ask the question "How would you like your child's medicine to taste?" the next time you see a prescription for liquid Amoxicillin, Amox TR-K CLAV, Azithromycin, Cefdinir, Cephalexin, or Tamiflu®. You can always check the FlavorBot for recommended flavors.
Know Thy Layout
Parents will oftentimes come to the pharmacy counter looking for guidance on where to find products in the pharmacy to help deal with a sick household. To speed up their visit and provide exceptional service, familiarize your pharmacy team with the aisle and shelf location of common cold & flu season necessities. This includes items like:
Facial tissue
Hand sanitizer
Thermometers
OTC cold and flu remedies
Humidifiers
Throat lozenges
Nothing resonates more with parents than showing them you care about the health of their children. Flu vaccinations, custom-flavored medications, and a helping hand in a time of need are all great ways to demonstrate your committment to care. Good luck this cold and flu season. As always, let us know if you need anything.
---------------------------------
If you're already a FLAVORx customer, check out our new Back To School, Back To Sick digital marketing materials.
If you're interested in getting started with FLAVORx, send an email to info@flavorx.com. We'd love to hear from you.